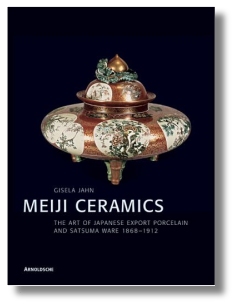 Meiji Ceramics: The Art of Japanese Export Porcelain and Satsuma Ware 1868-1912
Meiji Ceramics represents the first in-depth study of the development of Japanese export porcelain against a highly charged background of political, economic and cultural factors. Includes 180 artists's signatures. Text in English.
In 1854 Japan was forced to open its doors towards the world after 260 years of isolation. Wide receptiveness to everything Western was the driving force behind the modernization of Japan initiated by the Meiji government, yet it also induced a rapid rediscovery of indigenous cultural values.
At early Paris and London international exhibitions, the Japanese decorative and applied arts sparked off the Western fascination with all things Japanese japonisme. In Japan, on the other hand, new technologies were eagerly adopted the government realized that increasing production for export would be an excellent means towards Japanese economic growth.
If you are looking for just one book that deals with Japanese export porcelain on a little deeper level than just the items per se, I think this would be the one book to go for.
Hardcover: 360 pages
Publisher: Arnoldsche Verlagsanstalt Gmbh (March 19, 2004)
Language: English
ISBN-10: 3897901978
ISBN-13: 978-3897901971
Product Dimensions: 12.4 x 9.2 x 1.5 inches
Shipping Weight: 5.2 pounds