The Wästfelt Excavation of
The East Indiaman Götheborg, 1984-1992
Swedish Archive Resources and Museums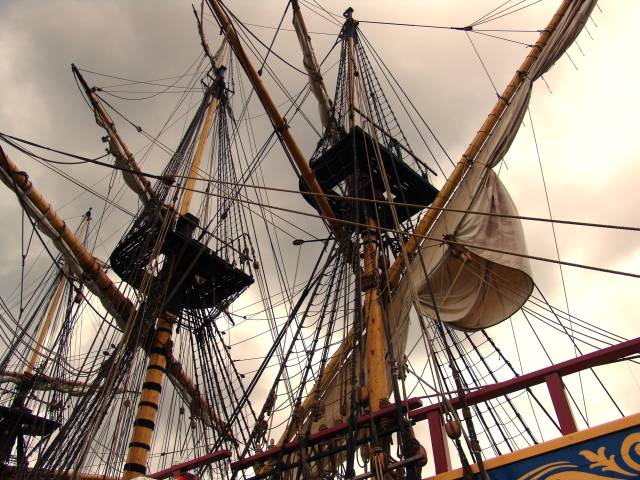 The 30th of May 2005 the Gotheborg III which started out as a dream thirteen years earlier
is almost ready to depart. Photo: Jan-Erik Nilsson.
GÖTEBORG
Göteborgs Stadsmuseeum
Norra Hamngatan 12
411 14 Göteborg
031- 368 36 00
Göteborgs universitetsbibliotek
Sjöfartsmuseet i Göteborg
Karl Johansgatan 1-3
414 59 Göteborg
031-368 35 50

Svenska Ostindiska kompaniets arkiv, liggare och skeppsjournaler
Forskarrum
Öppettider: Tisdag - torsdag kl 13.00 - 16.00
Email: arkivetsjofart@kultur.goteborg.se
KALMAR
Kalmar stadsbibliotek:
Svenska Ostindiska kompaniets arkiv, skeppet Adolf Fredrik, dagböcker
STOCKHOLM
Kungl. biblioteket:

Dagböcker och skeppsjournaler från resor med det svenska ostindiska kompaniet från den första och andra oktrojen (1731-1746 och 1746-1766) samt från åren 1799-1801.

Internet: http://www.kb.se/samlingarna/digitala/resor-tiderna/ostindiska

Kungliga Vetenskapsakademien:

Svenska Ostindiska kompaniets arkiv, skeppsdagböcker

Nordiska museet:

Godegårdsarkivet, Ostindiska kompaniet, 21 vol.

Internet: Svenska Ostindiska Kompaniet - Godegårdsarkivet digitala samlingar

Riksarkivet:

Enskilda arkiv i kommerskollegiets arkiv, Ostindiska kompaniet, försäljningsböcker 1733-1759, 21 vol.
Handel och sjöfart, Ostindiska kompanierna 1600-talet t. o. m. 1800-talet ,(vol. 52-56).
UPPSALA
Uppsala universitetsbibliotek:
Svenska Ostindiska kompaniets arkiv, journaler och liggare

Handlingar från Ostindiska kompaniet och de personer, som var involverade finns också i ett flertal enskilda arkiv. Där söker man på aktuellt namn i Nationella Arkivdatabasen (NAD) för att se vad som finns och var det förvaras, se vidare
Internet: www.ra.se.

Back to Chinese Porcelain Collectors Page