The Historical Background
Sweden and the City of Gothenburg
38. Hoppet
Hoppet
Resor under femte oktrojen:

År 1808 till England (Bengalen) under kapten Sven Roempke.

I slutet av 1808 sändes Hoppet till England med last av järn och 100 000 piaster lånade av Ständernas Bank. Under Engelsk konvoj skulle hon därefter gå till Bengalen. På grund av Gustav IV Adolfs avsättning måste resan inställas och hon återvände därmed till Göteborg med sin last. Förlusten på denna onödiga resa var över 40 000 rdr.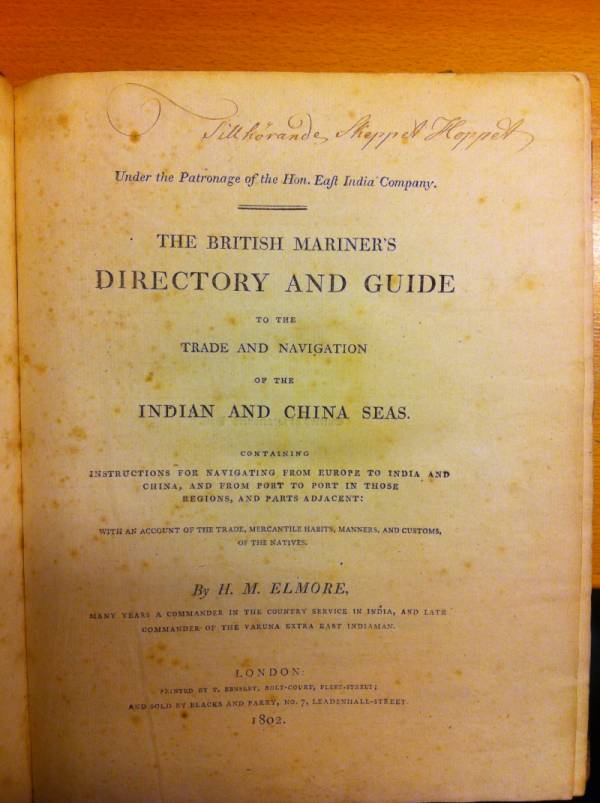 The British Mariner's Directory and Guide to the Trade and Navigation of the Indian and China Sea: Containing Instructions for Navigating from Europe to India and China, and from Port to Port in Those Regions, and Parts Adjacent: With an Account of the Trade, Mercantile Habits, Manners, and Customs of the Natives. By H. M. Elmore, London 1802. Original book from the Ships library, with the signature of the Captain, Sven Roempke. Library of the Coldinu Order, Gothenburg.
Copyright © Jan-Erik Nilsson 1998, 2010