"Judgement of Paris" Decoration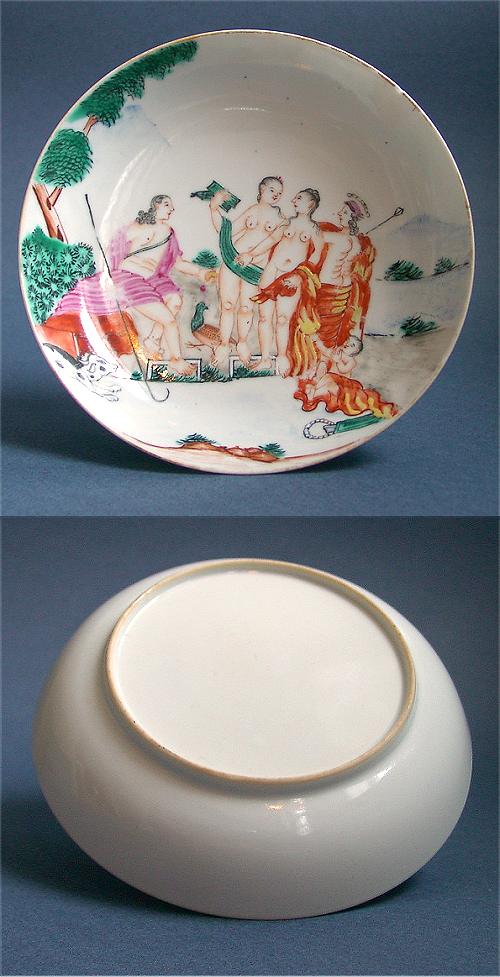 Chinese Export porcelain decoration for the European market, c. 1745-55 based on the Well-known Greek story from Homer, in which the young son of the King of Troy (The sheapherd Paris) had to make a choice between a number of Goddesses to decide which one of them was the most beautiful.
The sheapherd Paris is usually painted wearing rose drapery, holding a staff, seated beside a brown and white hound beneath a fruit tree, and offering a golden apple to Venus (Aphrodite), an act which eventually started the Trojan war, while Juno (Hera) wearing turqoiuse drapery and standing beside her peacock, and Athena (Minerva) wearing iron-red drapery, while Cupid looks on, all positioned before a hilly landscape.
The "Judgment of Paris" was possibly copied from a popular engraving by Marc Antonio Raimondi (c 1480-1530). The scene was popular also on European porcelain and an example painted in Holland shows the goddesses fully clothed. According to Homer Eaton Keyes (in Gordon 1975) the decoration is based on a print after a painting by Rubens.
Many versions exist, differing in color scheme, border design and the way in which the subject is painted. Some have the decoration encircled within a iron red and gold line, some with a foliate-scroll and shell border.