THE GOTHEBORG III PROJECT
Vision and Wider Purpose
By the end of the excavation period around 1990 it was becoming obvious that there was a general wish for some kind of continuation. It would not be too far off to say that people demanded of Anders to come up with a continuation.
After almost a decade of Anders standing on land talking about the boat, now people wanted to know what it had looked like. The problem was more how to swing it.
For the last seasons of the excavations out at the Elfsborg island Anders' had been promoting the idea of building a replica and to sail to China and back, at many, many hundreds of lectures. Even I did so when I occasionally stood in for him at various events. The standing order of the day was to say 'yes' to any requests to talk to anybody anywhere, paid or not. Anders traveled around with a Kodak carousel and talked about the excavation, while I had a stack of Over-Head's, talking about the crew and their trip to China and back.
The early 1990s was an intense period with many Swedish and international exhibitions arranged by Anders. In Sweden we together organized an exhibition at the Gothenburg Historical Museum, called Den Blå Vägen at which time I also launched the results from my "18th century food onboard the East Indiamen" project in the form of an East India buffet with "food from along the sail route to China and back".
Since we seriously had nothing to show, we needed all our imagination to make people see what we saw, a Swedish East Indiaman on its way to become built. My idea was to introduce the food on board and its cultural exchange aspect. The purpose was not to sell the idea of rebuilding a replica of the Gotheborg but to make people wild about it.
The first issue to deal with would be that you could not really finance the actual building of a wooden 18th century - oak - frigate with the money you could make from guided tours of the shipyard but, that was what we had to work with.
The second issue to deal with would be the long term aspect of the project that would be divided into two periods. The first being the shipyard period where you would have the boat to show, and the second when the ship would have left Sweden and be actually sailing to China and back.
We eventually learnt that very few companies would want to sign up for anything in advance that far ahead. We were however welcome to come back when we were ready to take off and they would then consider the options available. Ok, that was good to know but would not help us build the ship.
A 'grass root' project
At the bottom of it all was that we felt it was based on a genuinely positive feeling of friendship towards our old trade partner, China, and all the countries along the sailing route. It was basically a public project, not asked for or started by - and in particular not funded by - the Swedish government or any of our local authorities. It was just us. A small group of professionals who happened to think this felt like a very 'right' thing to do.
What we did have was the personal network of thousands of ordinary Swedes and hundreds of small and medium sized local businesses that Anders and Berit Wästfelt had organized into a 'Friends of the Gotheborg' organization over the excavation period.
Thus based on the fundamental and uncomplicated thought that old friends should be fine doing business with each other again - and with the support of any number of ordinary people and most Swedish companies there were - this would work.
Vision of the Ship
"She will be Sweden's only full-rigged sailing vessel and one of the largest wooden sailing ships of its kind in the world. She will become a Swedish flagship for international contacts within industry, trade and culture.
The immediate and practical goal was to build, equip and send this ship with a well-trained crew around the Cape of Good Hope and back, with the purpose of symbolically reopen the old trade route between Sweden and China. The trip is estimated to take about 18 months."
Long term planning
As for the time plan, we made one basic five year plan and were quite smug about us being so "Chinese" in our approach that we planned this far in ahead.
I am still amused at the memory of Anders standing on stage while presenting the time plan to invited sponsors, and thinking aloud; will I be alive when this ship is ready to sail? And I saw him count on his fingers and then coming to the conclusion, - Yes, ok, then, let's get on with it. Case closed as far as he was concerned. Personally I didn't need to count. I had done the math already, and besides I was a few years younger than him anyway. Also, on the side aisle of the Hotell 11 theatre were our presentation was held, was Erik Wettergren, at that time in his 70s I think, beaming with conviction and enthusiasm.
A wider purpose
However wild, fun and enticing this project was, it was still based on a realistic business plan and supported by a solid organization.
The person who during the winter of 1992/93 first outlined of a wider purpose of the project was Bo Alfredsson, a one-man think tank and entrepreneur, at this time employed to find tenants to the large hotel and office building Hotel 11 on the former Eriksberg shipyard area at Norra Älvstranden in Gothenburg.
He immediately saw that the Gotheborg III project could be used as a focal point for all kinds of businesses and organizations, and for many different ends within industry, trade and culture.
Trade
We were all convinced that China would soon rise towards its former importance in the world and we felt that stimulating the Swedish industry to begin thinking about China was a good idea.
We were all part of a small but growing group of Swedes that saw beyond its recent history of political unrest and thought ahead. The Swedish East India Company had never aimed at colonialism or used force towards its business ends in China which we felt was a good point to make when trying to reconnect with our old trade partner.
When the ship was launched we wanted every export company in Sweden to have their flags along the quayside. In the mean time we would try to arrange so that everyone who wanted to help the best they could, would find a place and a purpose within the project.
Keeping old knowledge alive
To build an 18th century ship would necessitate a great deal of research and the results should be processed and utilized into something possible for a classification society to allow us to actually sail.
To be able to build the ship we would need a functioning 'antique' shipyard, fitted for both the purpose of building the ship as well as attracting visitors and facilitate supporting activities.
As a side effect we would help save all kinds of old maritime handicrafts such as sail making, rigging, timber handling and astronomical navigation, up to and beyond how to actually sail a large and old fashioned tall ship like this.
Promote cultural exchange
We also felt that peaceful and mutually beneficial exchange of culture and ideas was ultimately the long lasting benefit for anyone taking part in international trade. Much longer lasting then any porcelain, tea and silk in the world, which had been the physical cargo.
The ship would be a perfect focal point for any number of efforts where the building of the ship would be the mean to a much larger end, and the synergies would be so many, that the ship could not help but being built in the process.
Well, even we realized that this would take some doing but we knew what to do, how to do it and more important, we knew why.
The East Indiaman Gotheborg III adventure had found its wider purpose and the only thing we needed to do now was to build the ship and set sail.
Together with the then head of the Swedish Institute of Future Studies, professor Åke Andersson, Bo and I formed a scientific advisory board where we developed these thought and how to put them into practice.
Obviously a project like this based on such a complex vision was difficult to communicate as a whole. In June 1996 I was however able to travel around and meet up with the majority of our most important sponsors and write all of their efforts into one focused effort, where everybody could see where they belonged, and had this distributed together with our sponsors Göteborgs-Posten morning newspaper complete edition, to more or less all households in Western Sweden.
At this point in time even the cab drivers in Gothenburg would send you to the shipyard for free, if you told you were working for the project.
Project plan and conceptualization by Jan-Erik Nilsson and Anders Wästfelt worked out between 1984 to 1998, in cooperation with Bo Alfredsson. This document published © 1993.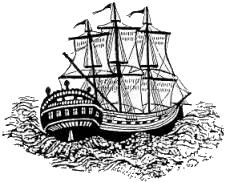 Project objectives as published in 1993
Based on a near ten-year marine archaeological survey of the in 1745 lost East Indiaman Gotheborg, we will with this as a model build and equip a ship, to its lines, rigging and hull corresponding to a mid 18th century Swedish East Indiaman, and with this ship carry out a trade and research trip to China and back.
Around shipbuilding, shipyard and voyage, a market organization will be created, with customers from private and public business and organizations in Sweden, in China and from nations along the 18th century historic trade route to Asia.
All Swedish companies and organizations with an interest in trade and relations with the countries along the route is thus offered the opportunity to exploit the project's goodwill and in a spectacular and unique way reconnect with our historically peaceful and mutually beneficial relations.
The public and the participating companies and organizations will be offered activities during construction, travel and after the return of the ship.
Our Company's Memorandum and Articles of Association lists four goals:
1. Culture
In western Sweden, a variety of unique skills related to shipbuilding, wood processing, forging, rust protection, coating, mold protection, rope-making, sail making, rigging, sailing, navigation etc. have been preserved as practical skills and in oral traditions. The knowledge is passed on from master to apprentice only as long as there are items to apply the knowledge on.
To once again build a fully rigged sailing ship of traditional materials and with historically correct rig set very high standards in craftsmanship. It will provide opportunities to the few experts that still hold these unique skills alive and allow new ones to take over.
2. Skills
The East Indiaman Gotheborg is a worldwide project. To accomplish this, we need new skills in mainly three areas, from the most forward thinking to the most practical imaginable: international communication and marketing, rigging and shipbuilding and for sailing, navigation, logistics, and communications during the journey.
To meet modern maritime safety requirements within an historic construction, new technology will be developed in collaboration with a number of established partners. The final product - an sailing East Indiaman built of wood - will then be tested under the most challenging conditions imaginable, a long voyage around the Cape of Good Hope to Asia and back.
3. Labour
An extensive international cooperation around Europe to reassemble old skills and top-quality materials, trees, fibers, etc. that will have to be found, is almost certainly necessary.
This cultural work will help establish new industries and to create jobs by the reinvention of high quality, traditional crafts. Through the East Indiaman Gotheborg project a variety of old and new expertise might find new use and new markets.
4. Science and Trade
The East India Trade of the 18th century created venture capital for industrial investment and promoted artistic, cultural, philosophical and scientific impulses between participating countries. Trade and exchange enriched and stimulated.
The East Indiaman Gotheborg project creates a historical platform that even today can foster research and collaboration.
Electronic commerce can be developed from the project's communication needs.
Project objectives and conceptualization by Jan-Erik Nilsson and Anders Wästfelt as worked out
in cooperation with Bo Alfredsson between 1984 to 1998. This document as above published © 1993.
Note added to this web page in 2006;
"Efforts to conceptualize the history and structure of the universe were already running into trouble because ...
the universe was not as uniform as had been assumed" (John Noble Wilford, NYT, Science, November 10, 1987).
Our problem was the opposite.