The East Indiaman Götheborg III Project
Excavation - Voyage - Purpose
Project Background and Introduction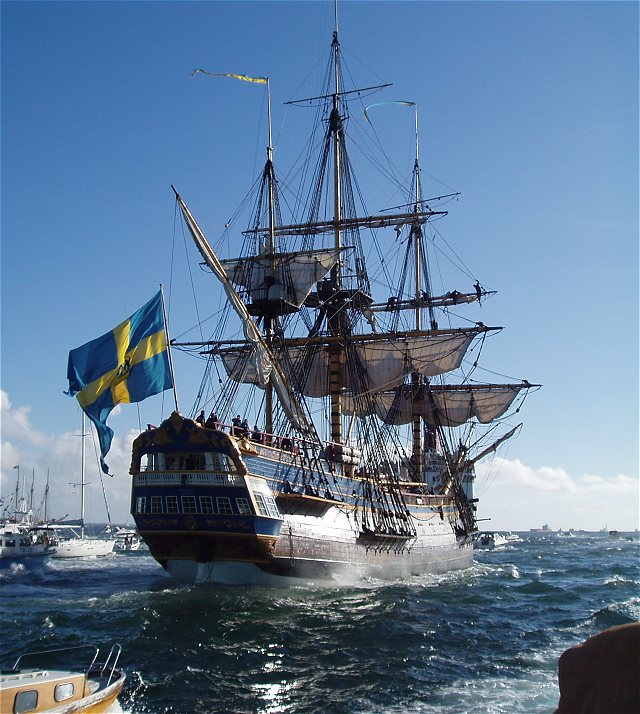 In 1992 Anders Wästfelt and his wife Berit decided that based on the worldwide interest they had created through their excavation of the early 18th century Swedish frigate, the East Indiaman Götheborg, and their exhibitions of the excavation results during 1984-1992, they would now try for a second undertaking.
They would now try to build an actual full scale replica of the Götheborg based on the findings from the excavation. But not only that, to round off the vision, they would aim to sail her to China and back again, following the original sailing route.
At this time, around 1992, Anders and Berit had just spent about ten years excavating the original Swedish East Indiaman Gotheborg (lost on homecoming in 1745) and in the process of doing this had built up a solid amount of goodwill and an enormous network of enthusiastic supporters all over the world that could be trusted upon helping out with this.
The seed money would come from Anders' own 50th year birthday fond. The last years of the excavation period had been used to promote the idea of building a replica and to prepare the ground for it. Now was the time to ask all to contribute towards this purpose, and they did. Money would also come from the Friends of the East Indiaman Gotheborg Organization, from thousands of sponsors and sponsoring companies, and most importantly from volunteers who was likely to want to help out for free. All based on the goodwill and popularity of the previous excavation and exhibition activities.
The first step would be to find the needed specialists and with them create an organization that would be solid enough to make this happen. The logic is inevitable in a project like this. 'Do you think we can make it, then, can you wait for the pay until this works? If you don't think we can make it, then what are you doing in this group?' This was pretty much it. The financial security would be none. The obstacles innumerable. The reward questionable. The chances of great adventures almost certain. The success only depending on ourselves. Of the initiators, there were very few who could ever lift I paycheck from this project.
Needless to say I jumped at the occasion. I mean, who wouldn't?
During the following six years we created this project from the ground up, without actually being hired by anyone to do so. Still people somehow think this must have been a government sponsored project or at least that the city of Gothenburg initiated it, but no. It was fully private. We rented a part of the now useless former Eriksberg shipyard wasteland for 100 SEK per year for the span of the project time and got going.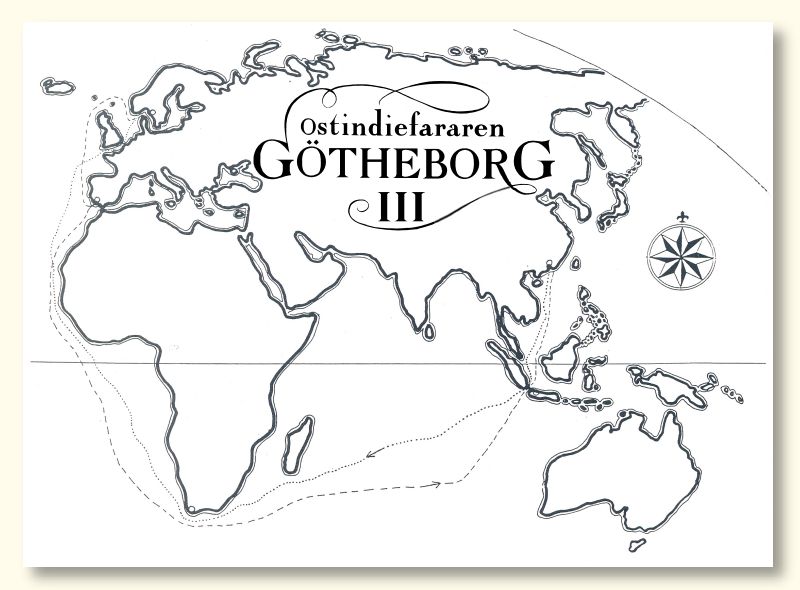 I joined this small group as an amateur Swedish East India Trade historian, but with the useful combination of also being a professional marketing consultant. Together with Anders Wästfelt we set out to launch his multifaceted project that we knew would fit very well with our conviction that China were just steps from entering the world as a very important trade partner. We were convinced that this project would present a unique opportunity to re-connect the Swedish export industry to this rapidly developing market. In June 1996 when I and Berit was awaiting the Chinese Vice Primier Zou Jiahua's limousine caravan to arrive to our Terra Nova shipyard, we were talking about the world economic outlook - They are like kids, Berit said, that have discovered a new toy. They have discovered the West, and now they are making small trinkets in bright colors and we buy, anything. They are having so much fun. Soon, they will build bigger things.
In the early 1990s this was far from the common understanding of things. To most, China was far away and of interest only for those that was taken in - or abhorred - by the Chinese 'Mao-ism' and the Cultural Revolution (1966-76). It took an active interest to see what was going on, on the East and Southeast Asian part of the Pacific Rim, to be aware of Deng Xiaoping and his plans. To the Swedish import and export industry the creation of the Special Economic Zone around the hitherto sleepy fishing village of Shenzhen, just across the border from Hong Kong, was changing the map of international trade. Art Historians on the other hand was worried that what the Cultural Revolution had failed to destroy of the Chinese history, the economic and industrial revolution would do. Foreign investment was now welcomed into China and foreign technology was brought in, and of course copied, and the economic growth was attracting momentum.
We were convinced that a ship project that aimed to re-connect our traditional good and peaceful trading relations with China and eventually would send in a trade delegation of a kind the world had not seen in hundreds of years, smack in the middle of this economic zone could be a sensational success.
In that sense we were in a privileged position. Through a network built up during Anders' excavation project with Swedish export industry, and the arts historian and Chinese antiques collecting friends I had - which connected threads all the way back to Gunnar Andersson (Kina-Gunnar) who was a key person in the beginnings of archeology in China in the 1920s, and then further on to His Majesty Gustaf VI Adolf and his great interest for Chinese Art, and his friends - we had a working understanding on what was going on in China, its history and its progress and where it rapidly were heading - that few others could have.
The Chinese government and various officials knew this too, and Chinese delegation after delegation came, looked and eventually dragged their unwilling Swedish hosts to see what we were doing - maybe the grandest friendship gesture ever made between the country of Sweden and China. Only, this was neither initiated or run by the Swedish government. It wasn't even initiated or run - or even sponsored - by the City of Gothenburg. It was completely private, run by Anders, Berit, me and a handful of other private people who were literally carrying this whole project on our own shoulders by working for it on a daily basis. With however, and that need to be said, the support of many very knowledgeable and resourceful high ranking sinologists and decision makers, upwards of a thousand small and large sponsoring companies and organizations plus many, many volunteering private individuals.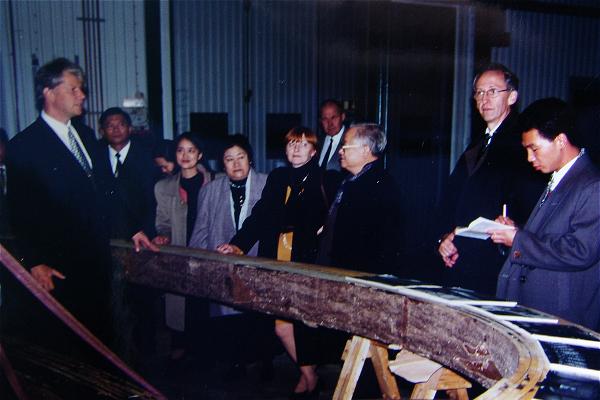 Eventually the official City of Gothenburg and the official Sweden warmed up to the ide and eventually started to promote it as their own. Maybe this was inevitable and maybe that was ultimately what we had wanted to accomplish. There are also aspects of this process that could be debated but, lets not g o into that here. Things worked out pretty well anyway. And eventually the project got off the ground, the ship got built and between 2005-2007 made a spectacular voyage to China and back.
Here I have tried to put down a brief history of how this remarkable project came to be and some, on how it was followed through. Most every other aspect has been covered by other sources, countless books, TV-programs and interviews, thousands of newspaper articles and I believe even a couple of full length movies, in both Western and Swedish media. Everything except how, why and by whom, it was actually started.
The few thing we knew for sure when we started this in 1992 was that it would benefit Sweden immensely if we could swing it, and that we would call it the The Swedish East Indiaman Gotheborg III Adventure.
This is the story on how that worked out.
Jan-Erik Nilsson
PS An additional archive with the old outdated project web site and more documents (Swedish only) is available at http://www.ostindiefararen.com
The excavation, the rebuilding of the Gotheborg III and its following trip to China and Back
More than 260 years ago, in March 1743 the first East Indiaman with the name of Gotheborg was resting safe and snug in a protected bay in the Western Swedish archipelago, right next to the islands of Styrsö where I sit and write these words right now. It was early spring and she was waiting for winds that could carry her out on the North Sea. Soon Captain Moreen would give the order to cast loose and depart for what for her and many in her crew would be their last voyage, ever. The destination was Canton, in China.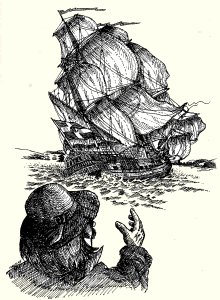 Eventually she set sail and for two and a half year nobody heard anything from her. Then, in the morning of the 12th of September 1745 she appeared against the horizon outside the home harbor of Gothenburg. Joy and Glory - she's back! But suddenly, with a shattering crash she hit an underwater rock and sank within viewing distance from land. A loss and disaster beyond belief! Silk and tea for millions of $ was water soaked and destroyed and deep down in the hull was the porcelain cargo of the Gotheborg, around 100 tons, or about 300,000 pieces shattered to pieces. Or were they? The salvaging of what could be salvaged from the immensely valuable cargo started immediately. On and off it actually continued for two centuries.

So far, the cause and even the full extent of the disaster remains a mystery. What actually happened is cast in clouds. Neither archive research nor recent excavations where eight years was spent sifting through tons of mud, soggy tea and porcelain shards - has given any proof of what actually happened. Despite archive finds of long lost documents, the rumor remains that there were something terrible wrong with the whole thing.
In a final attempt to solve the mystery, the 2nd of October in 2005, a rebuilt replica of the East Indiaman Gotheborg left Gothenburg to recreate the entire voyage to China and back. The whole project as well as the excavation was all started by a small group of enthusiastic professionals, each experts in their fields. With no public funding behind them whatsoever and with no other resources except our own plans, knowledge and willpower. Since I was one of them, here is my story about how it all begun.
Jan-Erik Nilsson
How it all started
It all started the 9th of December 1984 when Anders Wästfelt and a couple of friends made the first plunge in the cold and muddy water in the entrance of the Swedish Port of Gothenburg and found a large amount of porcelain shards 'spread out on an area the size of a foot ball field'.
Or maybe it all started in 1745 when the East Indiaman Gotheborg fully laden on homecoming from China after a two year long voyage ran into a rock in the Gothenburg port entrance and sank. And nobody seemed to be able to tell why.
Or, maybe it started already in 1718 when the Swedish King Charles XII was shot just outside the fortress of Frederikshald, and the Swedish era of Great Power screeched to a halt with the unfavorable peace treatises that followed?
However, to me it all started in early 1985, when I met up with Anders Wästfelt and his diver friends to take a look at what they had found. I could immediately tell that they had indeed rediscovered the Gotheborg. I also knew that I somehow wanted to be involved in this, were they to go down there again. They assured me, they would.
The 1745 Gotheborg Shipwreck
In early 1985 I was looking for ways to put dates on ordinary 18th century Chinese export porcelain. One of the few firm reference points available at that time was the porcelain cargo of the East Indiaman Gotheborg that so conveniently had foundered at the port entrance just outside of the City of Gothenburg. Quite a number of porcelain finds from this wreck were exhibited at the Gothenburg Historical Museum. The available information suggested that in 1906-09 a salvage operation run by James Keiller and Carl Lyon had cleaned out the whole site leaving nothing behind.
However, from Anders Wästfelts finds, it now appeared that this was not the case. So if that was wrong, what else was wrong? How much was actually left?
The excavation 1986-1992
After about a year of research and preparations Anders and Berit Wästfelt were in 1986 ready to start a large scale marine archaeological excavation of the 1745 Gotheborg wreck site. Over the years to come, this would get the attention of the whole world and build up a massive good-will capital that would be drawn on for the continuation - the rebuilding of the Gotheborg - the Gotheborg III Project.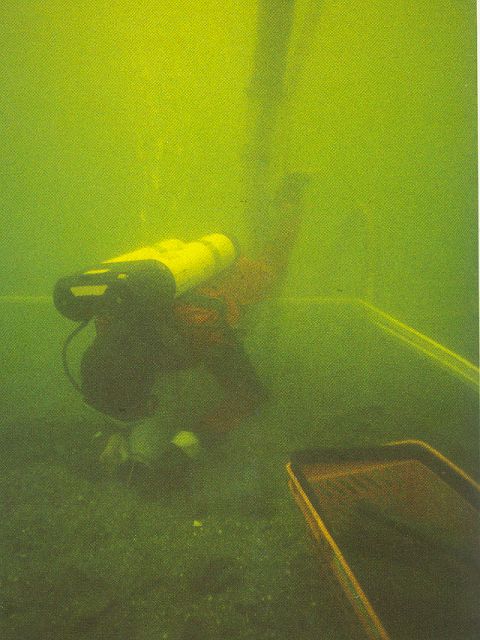 The Reconstruction 'Gotheborg III' Project, 1992 - today
During the last few years of the excavation phase Anders Wästfelt had in 1990 begun to include the idea of building a full scale replica of the original ship Gotheborgin his presentations at the excavation base camp. In October 1992 the idea was worked out enough to be officially presented. During 1993 I joined the project Management Group as in charge of 'Research and Documentation' where the documentation part was related to the fact that my profession was marketing and that I as an arts historian was one of the foremost experts on the Swedish East India trade and history. I figured both, would be needed before this was over.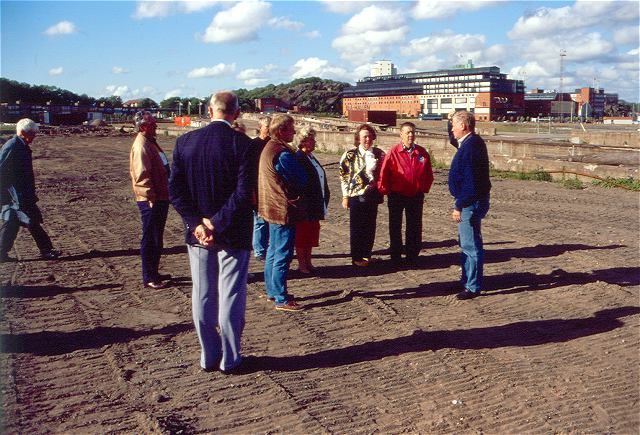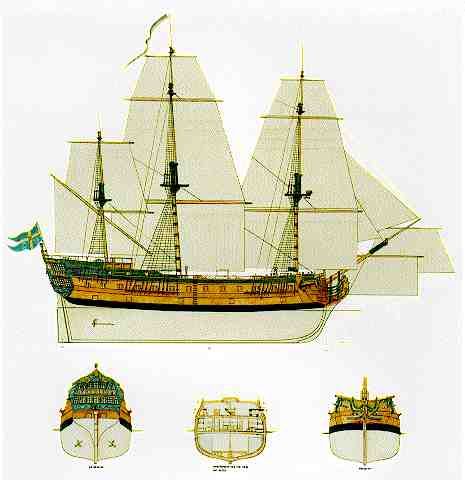 The 'Management Group'
The Management Group was the actual core of the project. Ours was the task to set up a solid organization that could get the project started, find a way to collect funds, interest sponsors, motivate the entire project, hire staff, find experts in all possibly fields necessary for something that had not been done for centuries, and and this with almost no funds whatsoever to work with.
Such were the reality of starting something like this. It had no doubt been easier if someone had asked us to do it, then we would have had someone to complain to. As it were, our options were to dig in and get going or, to give up and go home since nobody had asked to do this.
So we dug in and got going and very soon the Gotheborg III Project was moving, aimed at building a sailing replica of this ship, sailing it to China and back - hopefully without running into a rock on homecoming this time - as we put it to take a little bit of the edge of the intimidating scale of what we were attempting to do. I still have the highest regard for those who were the first to help, and all members of this first committee. It was foolhardily, dead stubborn, fun and, we made it.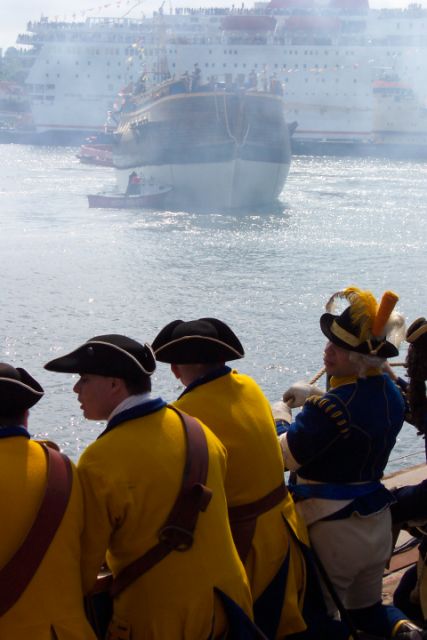 A wider purpose
However wild, fun and fantasy enticing this project was, it was based on a solid and well thought out business plan. We also gave it a complex but solid organization, where the shipbuilding would be the mean to a much larger end and the synergies would be so many that the ship could not help being built in the process.
A private initiative, and a true 'grass root' project
Also going for this project was that it was based on a genuine feeling of friendship between the people of Sweden towards our old trade partners, the people of China and all countries along the sailing route. It was basically a public project but it was not asked for, started by or - in particular - not funded by the government or any local authorities. It was just us.
A small group of professionals who happened to think this felt like a very important thing to do. In this we had the support of thousands of ordinary citizens, members of the friends organization plus hundreds of small companies from the local industry. The one basic thought was that old friends should be fine doing business with each other again. The ship would also be a perfect focal point for many efforts in that direction. We also decided to be a little bit "Chinese" in that we would not bother worrying about the time factor. Even if it took many years to make this work, we needed to start 'now', and it would still be a good thing whenever it was done.
Halfway through - the conflict
It also needs to be said, that it wasn't all smooth sailing even among this small group of strong willed enthusiasts. The project was a whopping success from a good will point of view and to some, popularity is actually worth a lot. Internationally it had became a huge issue with us more or less running a private Department of Foreign Affairs, and being politically incorrect, as in being "friendly" to China. So there were dark forces lurking in the shadows.
So, about when the first rib was raised in the new shipyard hall it became obvious that the long term aspect of the project was causing a financial tie. The costs were starting to mount and we realized that the main incomes of the project would not materialize before the ship was much closer to be ready to sail. This eventually opened the door for a group that had been sitting around waiting for an opportunity to take over the project by offering safe incomes to a limited, selected few they needed to just build the ship, and so it went.
After a mid period slump for one to two years, caused by most of the originals sponsors then refusing any further support, the building eventually proceeded.
I think that today nobody feel anything but pride about their part in that the ship was actually built, but this anyway did made the ship to much less of a symbol for 'entrepreneurship' and also left the organization with much less financial support then they would have got otherwise.
The voyage to China
Even if everything did not turn out exactly the way we planned it, I think that nobody today feel anything but pride about their part in that the ship was actually built.
Currently my big heroes are the people who knew how to put this beautiful ship and the historically correct rigging together, and those who now actually are sailing her. Amazing.
Thank you all who made my dream come true in this grand scale.
Jan-Erik Nilsson
Gothenburg, October 2005
Back to Gotheborg III and The Swedish East India Company Trading to China 1731-1813

---

Pages under this section are the actual, or based on, the original web site that was created by Jan-Erik Nilsson mainly during the years 1996-2000 as part of the East Indiaman Gotheborg III Project. The content have been updated graphically to work equally as good with modern browsers as it did when it was designed. All information are for entertainment or educational purposes only. All expressed opinions are my personal. Submitted material gratefully appears on this website due to the implied or expressed consent of the rights owners.

Unless otherwise stated copyright © Jan-Erik Nilsson, Gothenburg, Sweden 1996-2012.