The invention of Chinese porcelain influenced the whole world and contributed to the improvement o social civilization. The export of Chinese Ceramics began in the Han dynasty 2000 years ago. In many world ancient sites, Chinese ceramic shards were excavated from time to time. It is from these shards that we learn about the history and wide influences of Chinese porcelain export.
China's sea transport was highly developed in the Tang dynasty. Large amount of porcelain were exported abroad by sea. In the Sung dynasty, the Sea Trade Department was established in the government to take care of oversea trades, which greatly stimulated the development of ship-making, porcelain industry and its export. The number of exported porcelain and exported porcelain kiln increased in multiples. The porcelain trade came to its climax at the end of Ming and early Qing dynasties. Porcelain production and trade became the primary industry of China's export trade at that time. China's porcelain trade to Europe also came to its most flourishing time. When the exquisite Chinese porcelain landed on Europe, they were treasured as the "White Gold."
Although China and Sweden are far from each other, we have a long history of friendly economic relations. This equal trade relationship between China and Sweden was unique in China's Western trade history. Sweden sent to China silvers and brought back exquisite porcelain, silk, tea, spices and lacquers. In the 18th century, Sweden became one of the largest importers of Chinese porcelain, and then sold them to other European countries.
The Swedish Collection of Ancient Chinese Ceramics Exhibition reveals the glory of Chinese porcelain export at the end of 17th century and early 18th century. It also brings us into the Swedish sailing history. Porcelain promoted the interaction between China and Sweden.
This year is the 80th anniversary of the Palace Museum and the 55th anniversary of the establishment of China and Sweden's diplomatic relations. It is also the first time that China and Sweden are collaborating to present an exhibition in the Palace Museum. This exhibition will surely have profound impact on this mutual cultural exchange.
Wish the Exhibition a great success and for both China and Sweden to develop a closer friendship.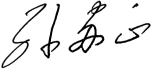 Sun Jiazheng
Minister of Culture
The Peoples Republic of China