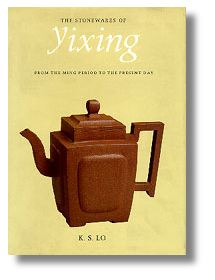 The Stonewares of Yixing: From the Ming Period to the Present Day
Color and B&W photos (wares and seals), line drawings (teapots), bibliography, index of potters, general index. Twenty years after its publication, this book remains the single most important English language reference on Yixing.
Kwee Seong Lo's scholarly approach and chronological progression of the text enable readers of English, for the first time, to understand many of the nuances and traditions of Yixing ware, with no aspect overlooked. An absolute imperative addition to any Yixing library.
Hardcover: 287 pages
Publisher: Sotheby Parke Bernet Pubns (December 1986)
Language: English
ISBN-10: 0856671819
ISBN-13: 978-0856671814
Product Dimensions: 11.2 x 8.2 x 1.2 inches
Shipping Weight: 2.8 pounds