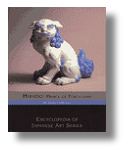 Hirado : Prince of Porcelains (Encyclopedia of Japanese Art Series) (Encyclopedia of Japanese Art Series)
Hirado: Prince of Porcelains is part of the Enclyclopedia of Japanese Art Series. It provides a comprehensive look at one of Japan's greatest porcelain factories, which enjoyed enduring princely patronage from the Matsura family, Lords of Hirado Island. The book displays Hirado ware with its subtlety, charm and magnificence in broadly chronological order, summarises documentation on these wares, and underpins these with information about Western collectors, as well as all known Hirado artists' signatures.
The first book in the Encyclopedia of Japanese Art series is devoted to Hirado porcelain and is the only work devoted exclusively to the subject in English. This much needed volume traces the origins of one of Japan's great porcelain manufacturers from its first years in the 17th century to its closure early in the 20th century.
Illustrated with 101 colour and black and white photos, almost all of which are published for the first time, it displays the extraordinary range of Hirado wares originally made exclusively for the wealthy Matsura family. It conclusively demonstrates that Hirado was an important kiln in the history of Japanese ceramics and its widely varied wares rank among the finest made.
Within the appendices of this book is a unique and comprehensive section devoted to over 90 marks found on Hirado wares. The eccentric charm and superlative quality of this rare porcelain is admirably displayed in this book by scholar and dealer, Louis Lawrence with an introduction by the renowned collector David Hyatt King.
Paperback: 176 pages
Publisher: Art Media Resources Ltd; 1 edition (1997)
Language: English
ISBN-10: 1878529307
ISBN-13: 978-1878529305
Product Dimensions: 10.4 x 8.2 x 0.8 inches
Shipping Weight: 1.8 pounds
ISBN: 1878529307