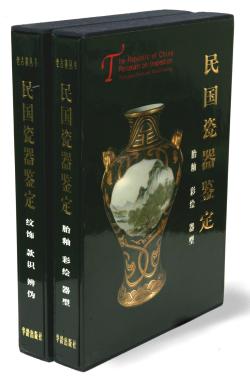 Part I – Republican Period Ceramics: Paste, Glazes, Painting and Shapes
This is one book is a set of two, both written by Tie Yuan and Xi Ming detailing Republican period ceramics. This volume start with a discourse on the production of ceramics complemented by early black-and-white photographs. Follows with an examination of glazes, painting on Republican ceramics and an in-depth presentation of the many new and prevalent shapes from this period. Illustrated with hundreds of color plates showing many previously unpublished pieces.
Part II – Republican Period Ceramics: Designs, Seals and Forgeries
Second book in this set by the same authors continues the in-depth discourse on Republican period ceramics. Many inscriptions on porcelain are shown that include artists' seals plus hall and studio marks. Finishes with a section on the problem of forgeries of Republican period ceramics and Republican period imitations of earlier works.
Both books are recommended on behalf of the illustrations although the text remains a closed door to non-Chinese readers. Dates are occasionally given in western numerals in the captions.
Beijing, 2004.
302 resp. 310 pages.
Colour plates throughout.
Book I – Two foldout color illustrations on porcelain figures.
B/w illustrations.
Size 29×22 cm.
Hardbound. Text in Chinese