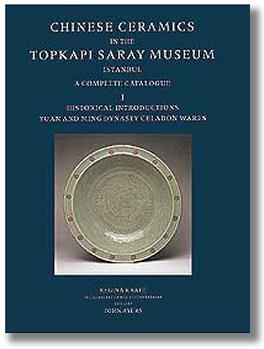 Chinese Ceramics in the Topkapi Saray Museum, Istanbul, by Regina Krahl, et al., London, 1986. This is not really a book. This is a career. It is a heavy set of three books really and they are very expensive. Still they are a "must have" if you really want to understand early Ming blue and white.
The wares in this complete catalogue present a continuous review of porcelain made for export from the 13th to the 20th century which in it's range of styles and designs is without equal in other collections. With some 4500 pieces dating from the Yuan and Ming dynasties and 5500 from Qing, this three volume set constitutes one of the most extensively illustrated works on Chinese ceramics.
Volume 1 : 'Celadon Wares', volume 2 : 'Yuan and Ming' volume 3 : 'Qing'. The three volumes are in slipcases, limited edition of 1500 numbered copies. English text. 1986, fol., 1,384 pages, 5000 ill., cl.
Publisher: Sotheby Parke Bernet Pubns (May 1986)
Language: English
ISBN-10: 0856671843
ISBN-13: 978-0856671845
Product Dimensions: 15.5 x 11.5 x 7 inches
Shipping Weight: cool 35.4 pounds !
There is also a recent edition of only two volumes available but I have not compared them and don't know how much you loose in comparison with the first edition.
CLASSIC