Historic Salvage Attempts
from the Accident in 1745 and Later
Kjellberg, 1866
By the time of the mid 19th century the old oak hull had now blackened and become attractive for making furniture. Several attempts were thus made to bring up as much as possibly of this hard and valuable wood. To this end several diving companies approached the wreck and at least some of them seems to have used dynamite to pry the hull apart.
In later salvaging attempts in 1864 and 1876 pieces of oak were salvaged and additional small quantities of porcelain were recovered. Johan Kjellberg, diving in 1860s succeeded in taking up 77 dozen pieces (924 pcs) of porcelain.
"Old China, recovered by Mr. Chudley, Birmingham, 1875"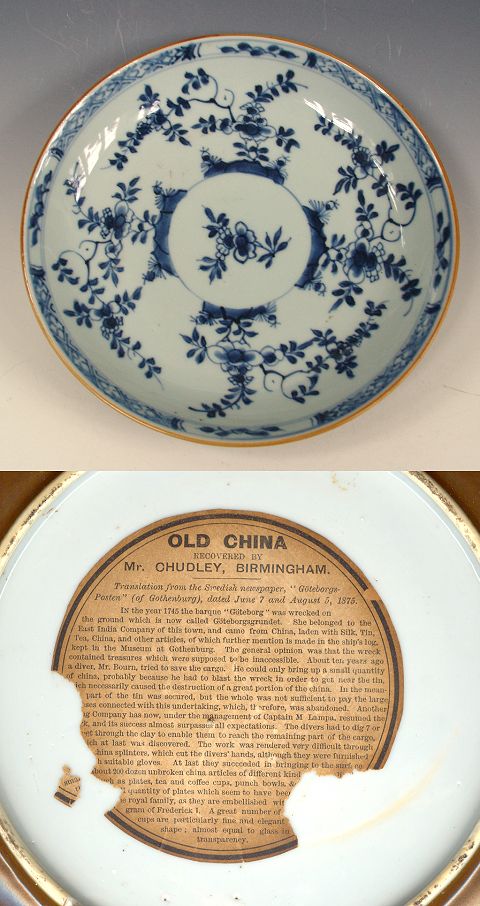 Reconstructing lost text can be challenging, but here's an attempt to fill in the gaps. This reconstruction is speculative and aims to create a coherent narrative based on the existing label on the 'Mr. Chudley dish' label fragment. It's important to consider that the actual content may have differed in a few words. (JE Nilsson, 20 November 2023)
OLD CHINA, recovered by Mr. Chudley, Birmingham
Translation from Swedish newspaper, Göteborgs Posten (of Gothenburg) dated June 7 and Aug 5, 1875
"In the year 1745, the barque 'Göteborg' was wrecked on the ground which is now called Göteborgsgrunded. She belonged to the East India Company of this town, and came from China, laden with Silk, Tin, Tea, China, and other articles, of which further mention is made in the ship's log, kept in the museum at Gothenburg. The general opinion was that the wreck contained treasures which were supposed to be inaccessible. About 10 years ago, a diver, called Mr. Bourn, tried to salvage the cargo. He could only bring up a small quantity of china, probably because he had to blast the wreck in order to get near the tin, which necessarily caused the destruction of a great portion of the china. In the meantime, part of the tin was secured but the whole was not sufficient to pay the large expenses connected with this undertaking which therefore was abandoned. Another diving company has now, under the management of Captain M Lampa, resumed the work, and its success almost surpasses all expectations. The divers had to dig 7 or more feet through the clay to enable them to reach the remaining part of the cargo, which at last was discovered. The work was rendered very difficult through numerous china splinters, which cut the divers' hands although they were furnished with suitable gloves. At last, they succeeded in bringing to the surface about 200 dozen unbroken china articles of different kinds and designs, such as plates, tea and coffee cups, punch bowls, and even a small quantity of plates which seem to have been intended for the royal family, as they are embellished with the monogram of Frederik I. A great number of porcelain cups are particularly fine; almost equal to glass in transparency.
"Old China, April 1876"
On a similarly identified dish a shorter version is found, dated April 1876.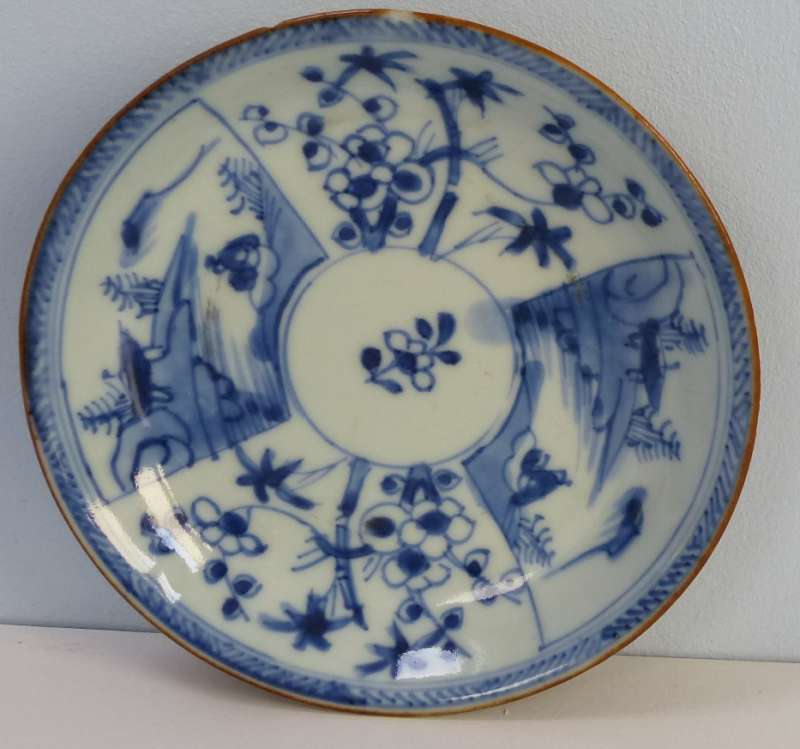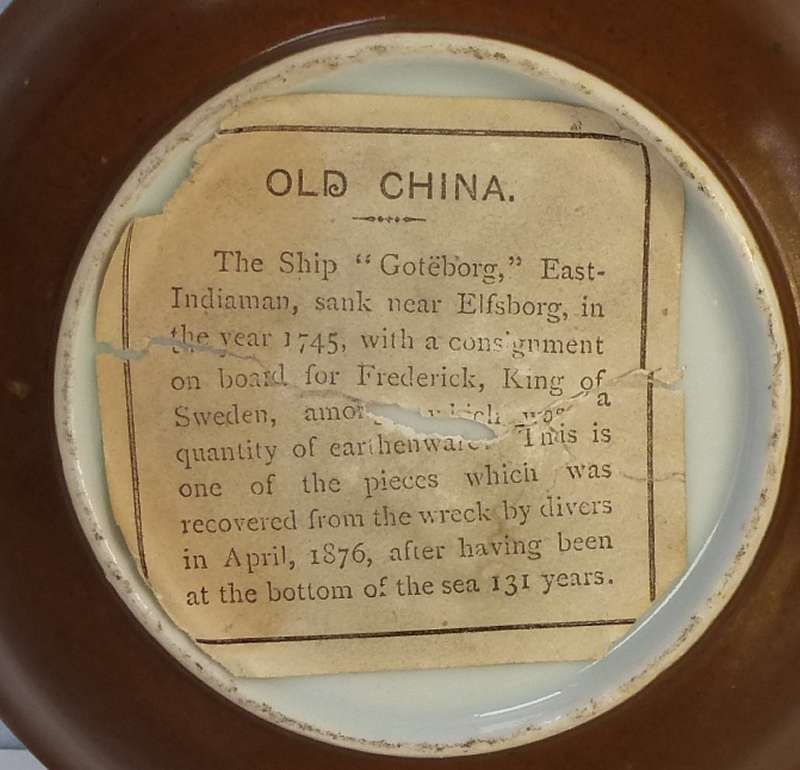 The James Bourn and Cpt. Lampa salvage operation 1877
According to newspaper reports from 1877, Captain Lampa and James Bourn recovered "a lot of porcelain… consisting of tea and coffee cups and saucers, large and small places, tea and coffee pots, etc".
James Bourn, might have been the well connected photograper James William Bourn (1849-1917). During 1863-65 young Bourn worked as an intern at von Boeckmann in Stockholm and as "Monthly hand" in Gothenburg with the same von Boeckmann. In 1876 he establish his own photo studio at Nya All&eaute;en 96. In 1886 the studio moved to Kungsgatan 47 where it remained until it closed in 1929. James Bourn was an acomplished photographer with many customers. His large collection of negatives is mostly kept at Gothebourg City museum. (Source: Göteborgs Fotografer, Ateljéer och yrkesmän 1840-1910. Rundqvist Boktryckeri, Göteborg. ISBN 91-630-7742-6.) Among the customers were Alice and James Keiller.
James Keiller Jr. and Carl Lyon 1906-1907
In 1906-07 James Keiller the Younger made another more ambitious salvaging attempt. According to the accounts, the result of this effort was that not less than 4,300 pieces of porcelain were recovered, plus a large number of porcelain shards. Yet of the entire porcelain cargo, of between 500,000 - 700,000 pieces and hundreds of thousands of objects, only a small fraction could possible have been recovered after the ship went down.