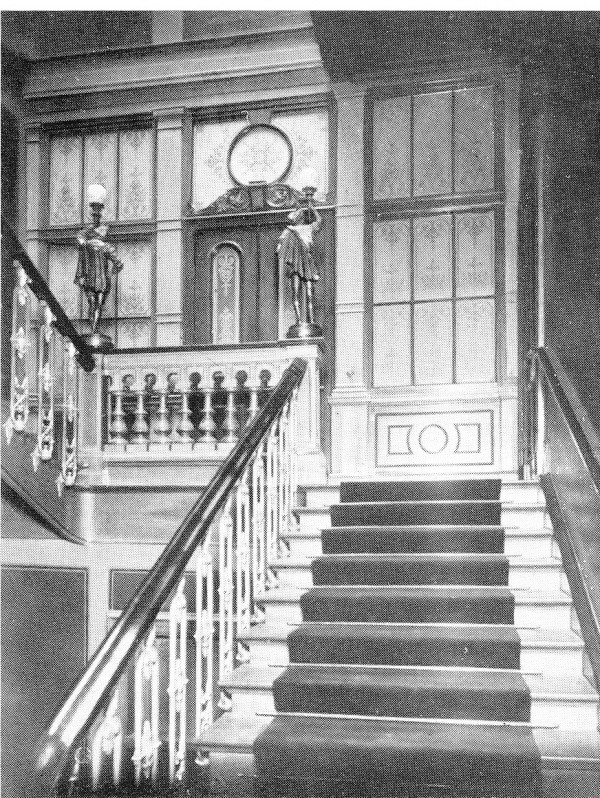 Alice and James Keiller city residence in 1921
From the Swedish magazine Svenska Hem i Ord och Bilder, May 1921 edition
MOST of the buildings, which from the end of the 1870s were built on Gothenburg's main street, Kungsportsavenyen, were private buildings for patrician families. One of these buildings, house no. 4, which more than any other has retained its peculiar furnishings and decoration to the taste of the 1880s, is now inhabited on the floor upstairs by the Italian consul James Keiller and his wife Alice Lyon.
The Hall
Up a wide free staircase, we pass the vestibule held in dim and discreet lighting and enter a hall, which has the character of a longer gallery.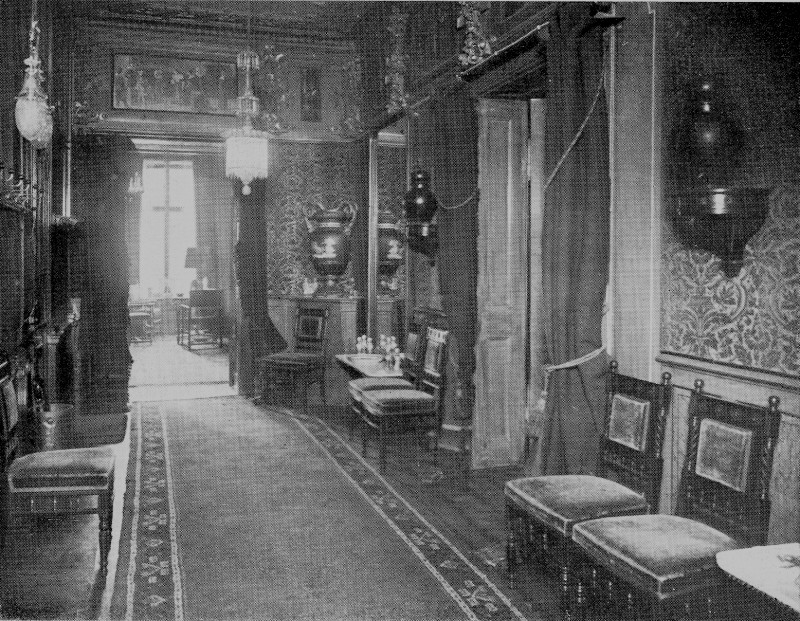 Mrs. Alice Keiller's Writing Room
From here we first step into a medium-sized atrium, in everyday life called the consul's writing room, with a gray-green smooth wall surface and now a completely white framed stucco roof. The room is adorned with some major oil paintings: Alfred Wahlberg's excellent "Småländsk bokskog", Georges Callot's (1857-1903) typical French 1880s painting "La cigale" (The Cicada) and a couple of family portraits. One a youth portrait of the hostess's mother, Mrs. Carolina Röhss, b. Zachau, made by Adelaide Leuhusen, the other depicting Major David Keiller in English uniform from the first half of the 1800s, a great-uncle of the host, whose family hails from Scotland.
Among the furniture in the room is a cupboard of unusually well-measured proportions and a larger table, both Italian marquetry works in Louis-seize style with hunting scenes, partly adorned with inlays of bone and mother-of-pearl. In the same style is a larger richly inlaid (medallion: Leda med svanen) Italian chest of drawers with heavy slab of red-changing marble. The seating furniture consists of Italian chairs, as well as the fully gilded chandelier in baroque style. The tiled stove is from Rörstrand, 1880s work in medium blue tones with gilded late empiric ornaments; the sideboard carries a so-called East Indian company pendulum of gold bronze with the watch house in the form of a cotton ball, against which a Negro leans and is supported anchors and antique rudder with the dial is signed Joachim Hovenskjöld. Among the amount of handicraft objects in this room, we see a larger collection of silver pieces: Swedish goblets, jugs, cans, a richly decorated dish with embossed reliefs, with Stockholm stamps from 1779, and a particularly finely worked pineapple-shaped goblet, southern German work. Interestingly, a larger Chinese bell is hung on a pedestal in a ring of jade from the Han period (220 BC-221 AD.)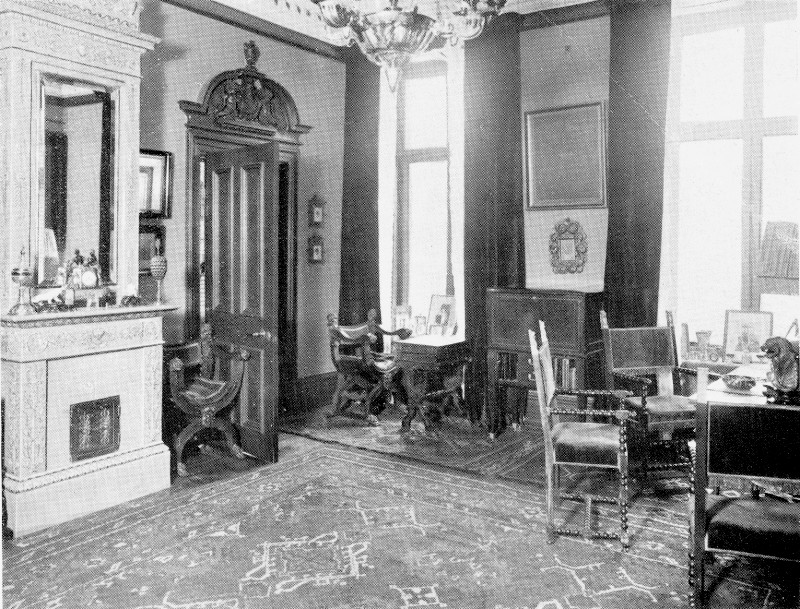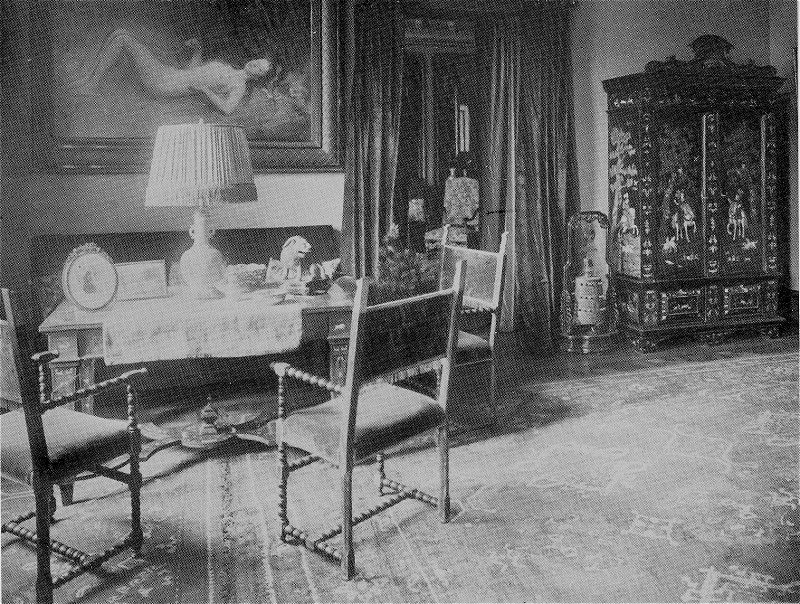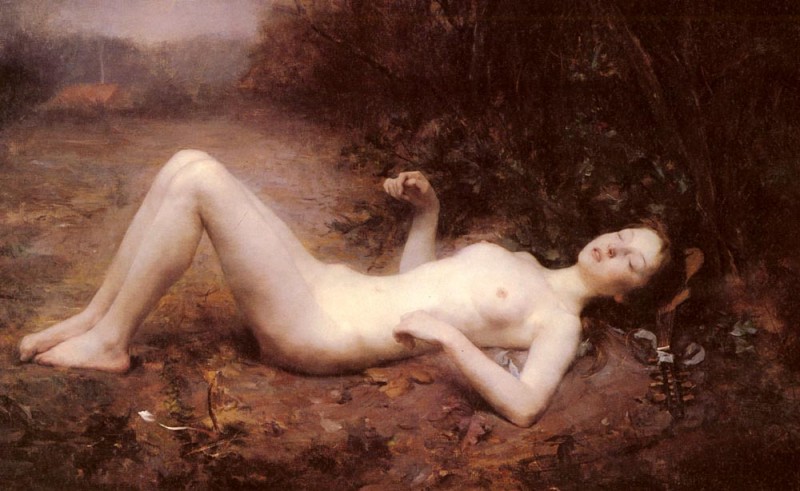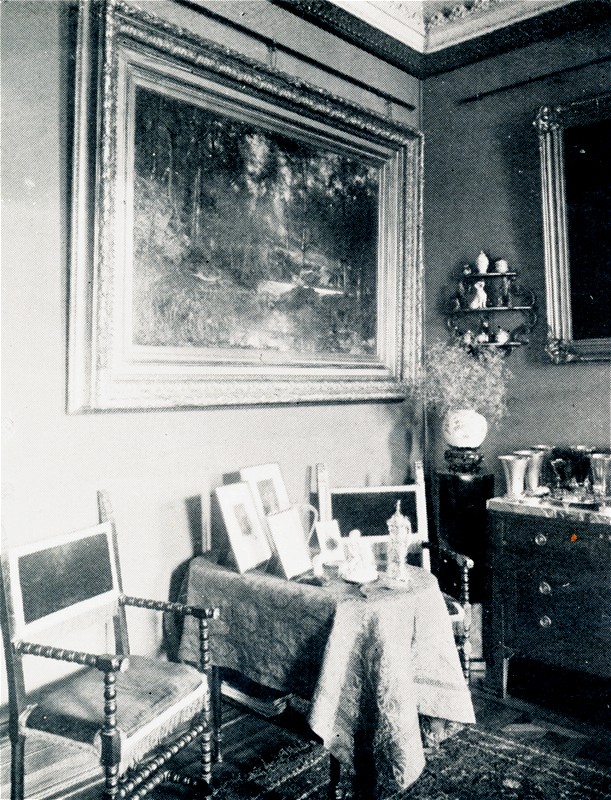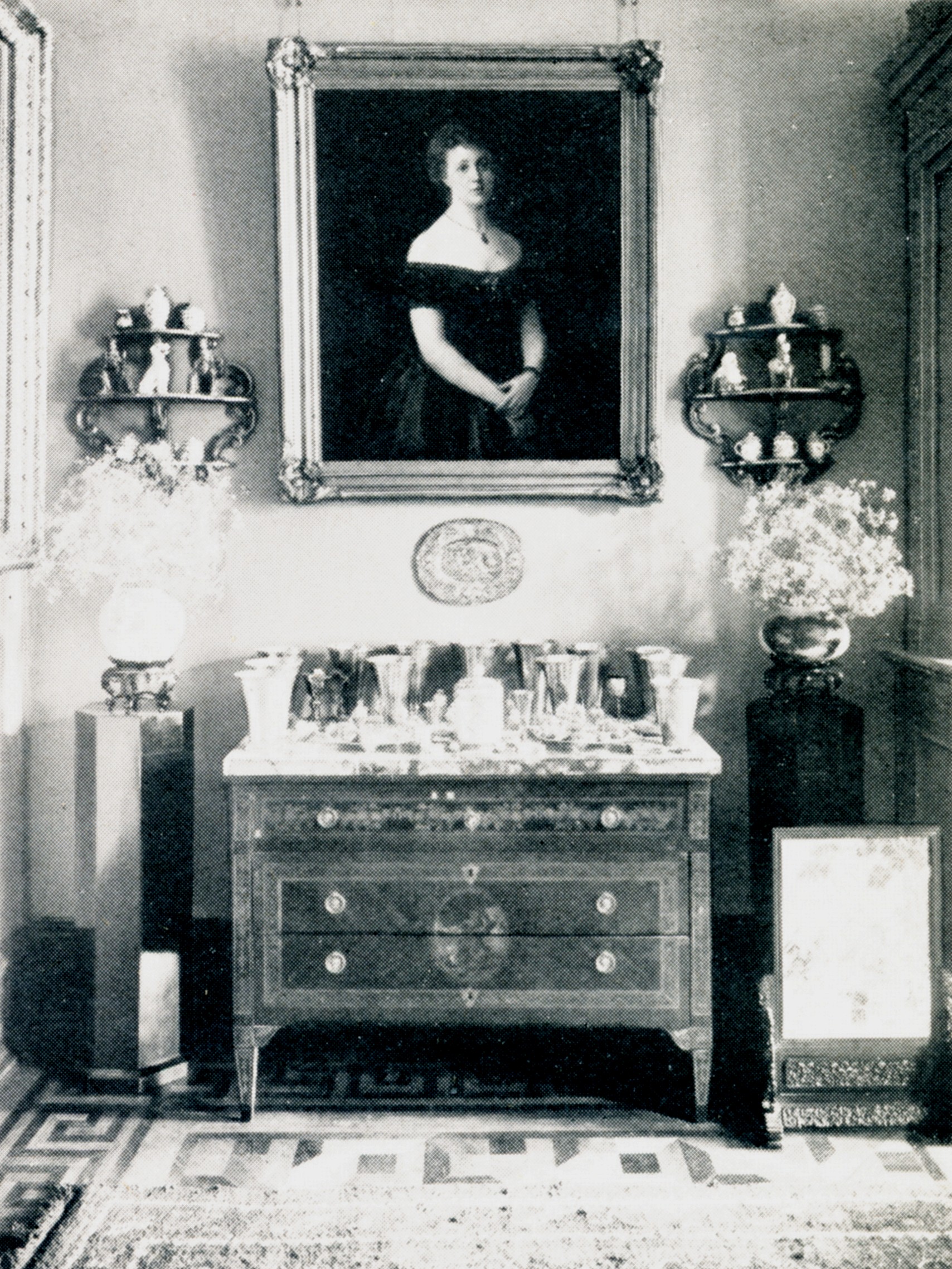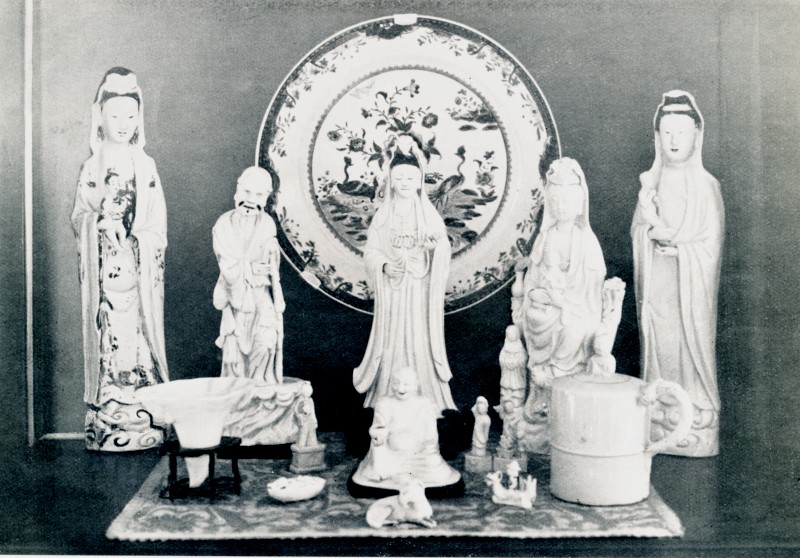 Consul James Keiller's Writing Room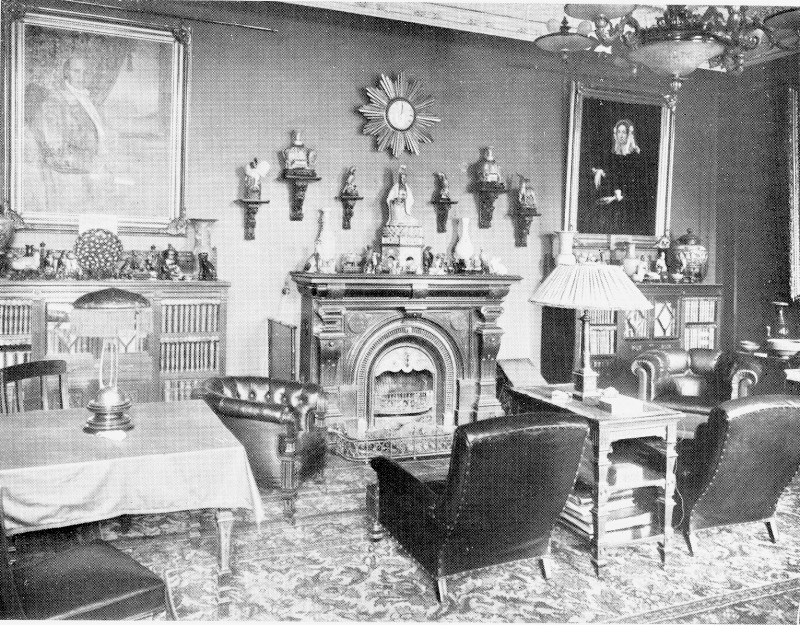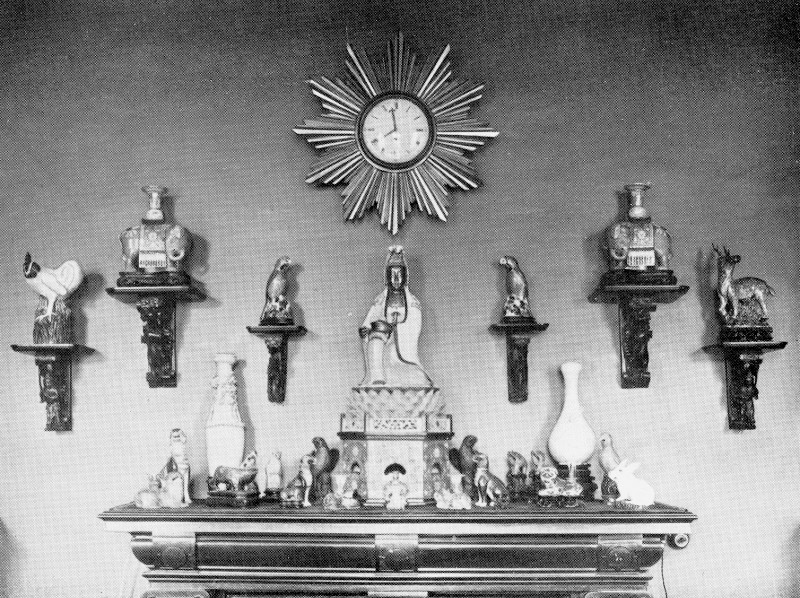 We get further into the consul's writing room, extremely inviting with its comfortable deep fully upholstered and leather-covered seating. On the gray-green wall surface hang larger oil paintings: Lofoten picture by A. Norman, "Floraison", one for its time, early 20th century, signifying painting in the nude by Jeanne Rongier (1852–1929), and a couple of larger pieces of knee, portraits of the consul's grandparents, engineer Alexander Keiller and his wife Louise Wijk, copies by Johan Per Södermark. Among the furniture, our attention was drawn to a desk with a high shelf layout, composed of richly sculpted fillings from probably North German baroque chests.
The main wall is occupied by a low English stove of black marble, flanked on each side by bookshelves, which, like the stove, carry part of the rich and extremely precious collection of older Chinese porcelain, which the Keillers brought home from a trip to East Asia.
We see here a selection of polychrome manufacture: urns, vases, bowls, brush stands, ink cups, sacrificial cups, figures of humans and animals (the dog Fo) from the Ming dynasty (1368-1644) and the Kangxi period (1662-1722), most on sculpted original stands of black wood. A separate group from the Qianlong period (1736-1795) form various animal figures. Extremely rare is a vase from the first part of the Ming period in openwork, on a turquoise base decorated in yellow and eggplant. On one of the tables is an unusually beautiful urn (famille verte), on another table a group of figures and vessels, blanc-de-Chine, and on the desk top a row of particularly decorative pots and some bowls with the famous peachbloom glaze.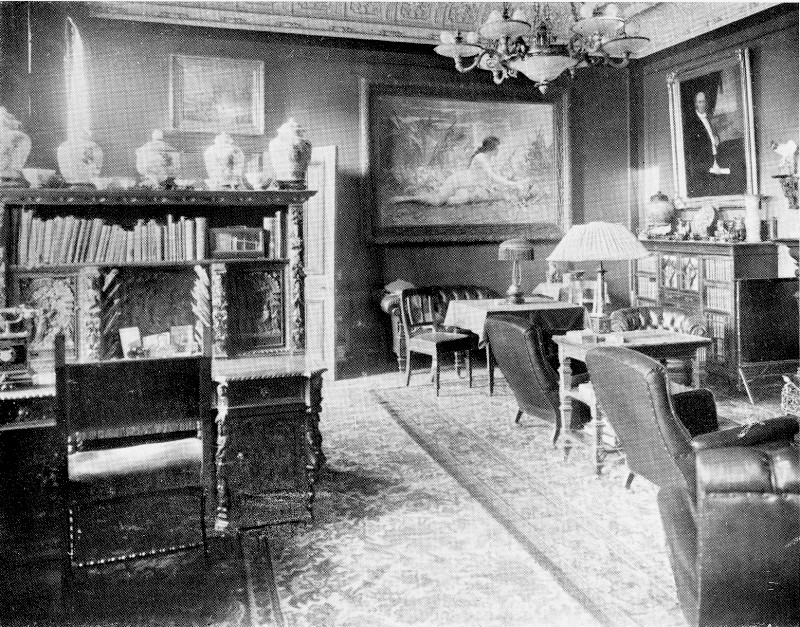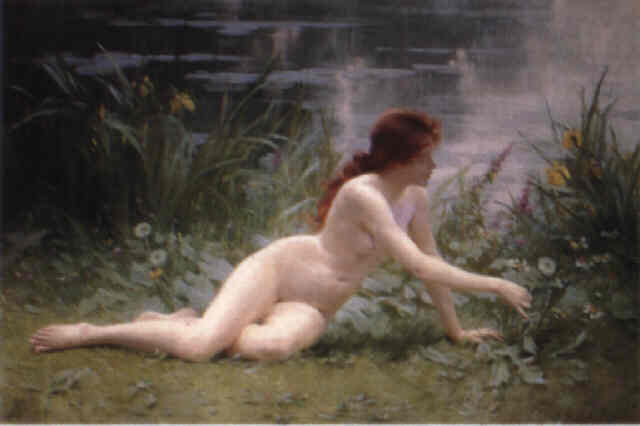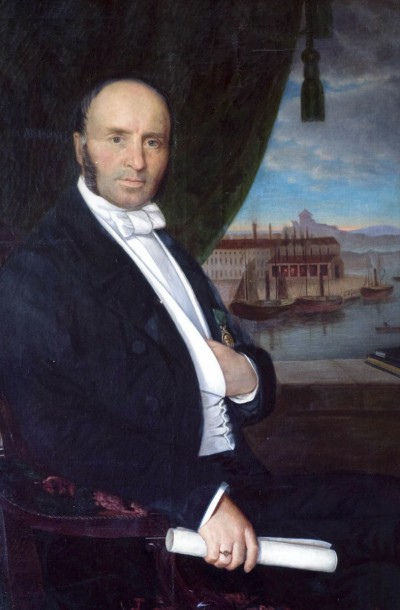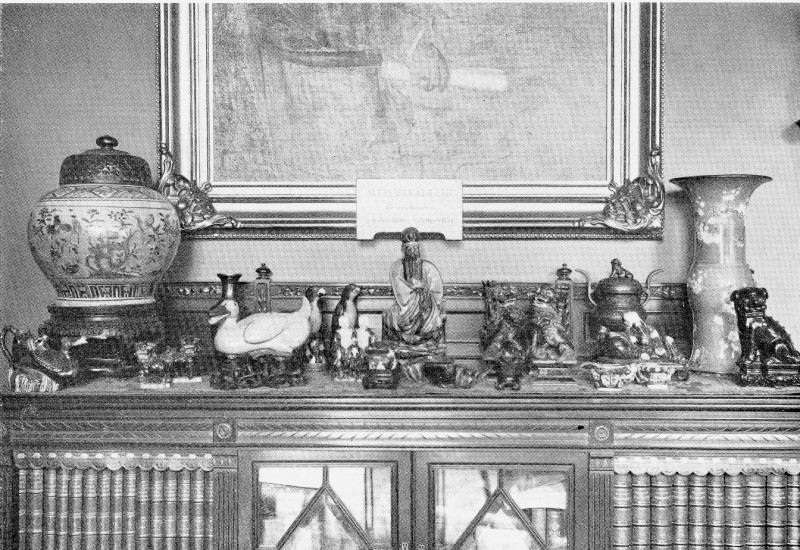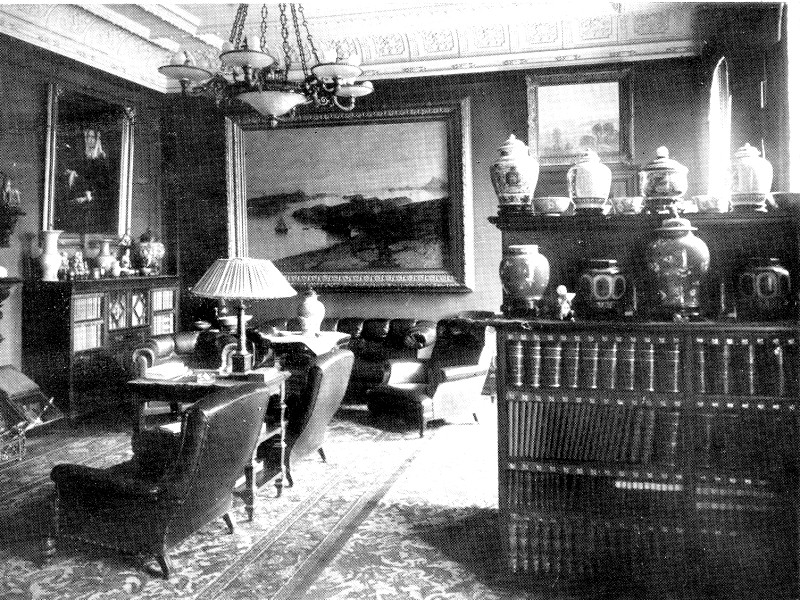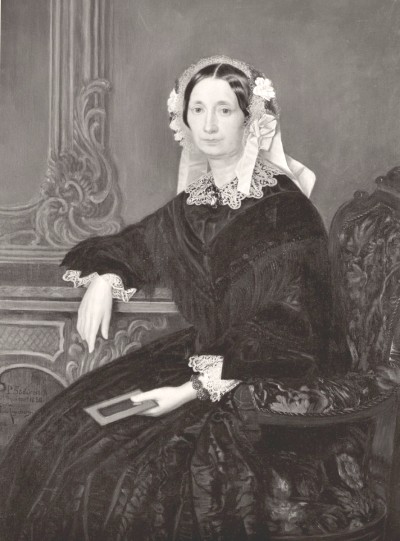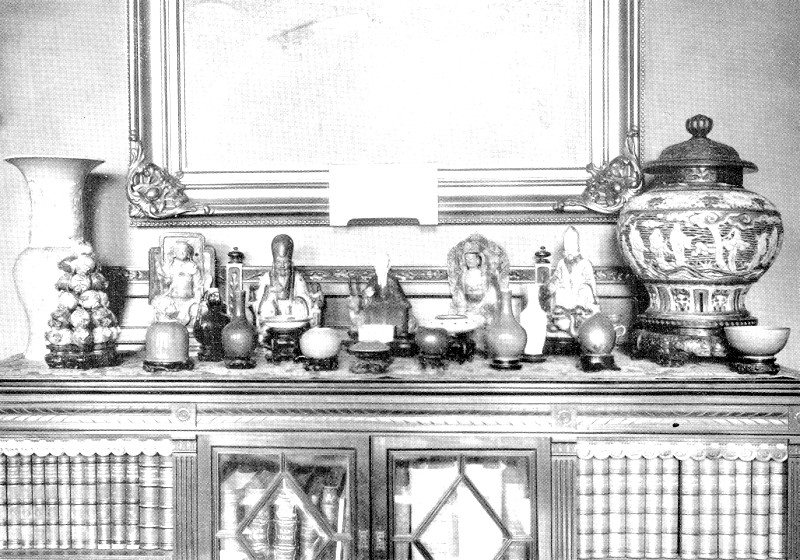 Through the consul's writing room into the salon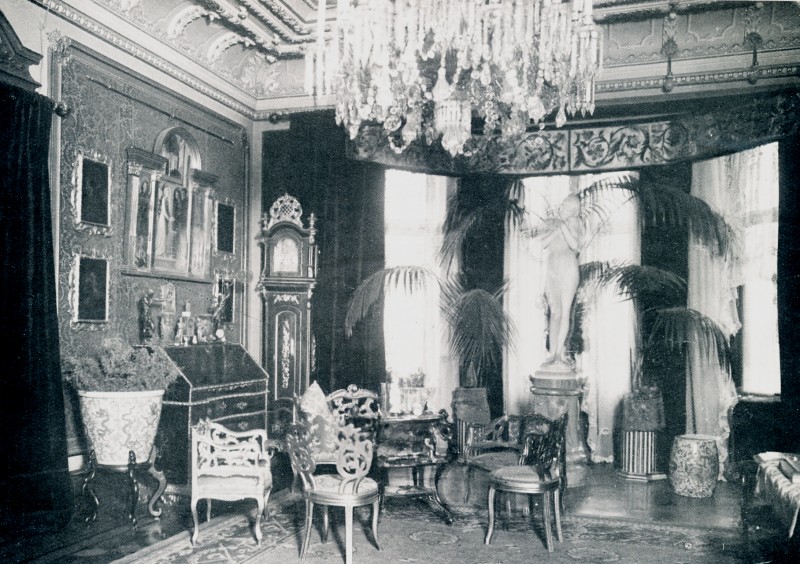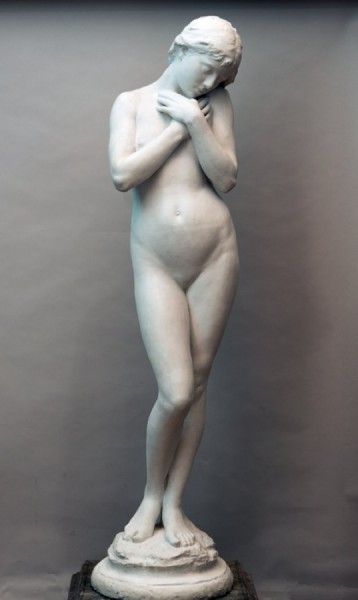 This room owns more than the floor, incidentally, a typical architectural 1880s decoration; the walls by stucco moldings divided into fields with brown velvet wallpaper in stylized floral pattern, the ceiling framed, painted and partially gilded in stucco work, from whose center rosette hangs a larger glass crown (baccarat).
The salon's walls are adorned with mirrors, which, like some oil paintings, are set in richly sculpted and gilded Italian baroque frames. The seating furniture is of the same origin and equipment. Unusual as furniture work is a larger secretary from the first half of the 18th century, Italian marquetry work with frames of sculpted and gilded wooden moldings. On a pedestal on the floor stands a rare precious "fish bowl" (camaïeu bleu) with imperial name cipher from the Wanli period (ca. 1600).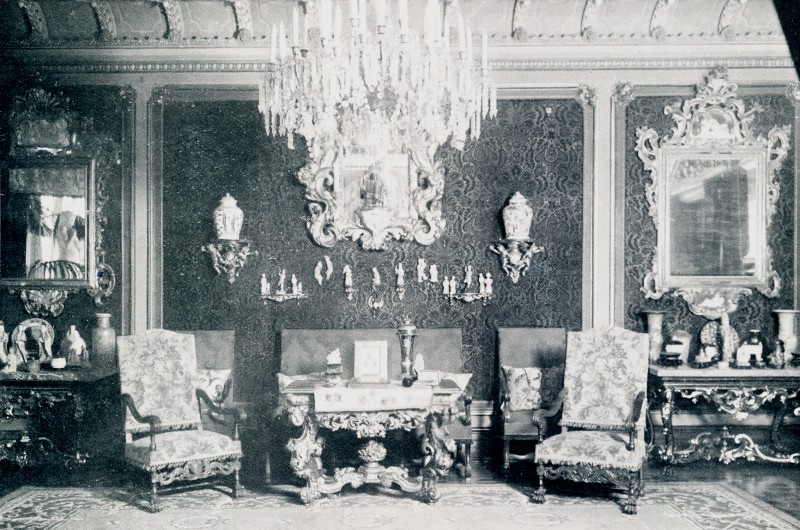 The Small Salon or the Music Room
Furthermore, follows the small salon or the music room with an original tiled stove, dark brown majolica from Rörstrand with Pompeian decoration in gold and colors. On the red wall panels we see oil paintings by Vilhelm Mellbye, Vincent Lerche, Alfred Wahlberg, Wilhelm von Gegerfelt, Gustaf Cederström, August Hagborg, Bruno Liljefors and others.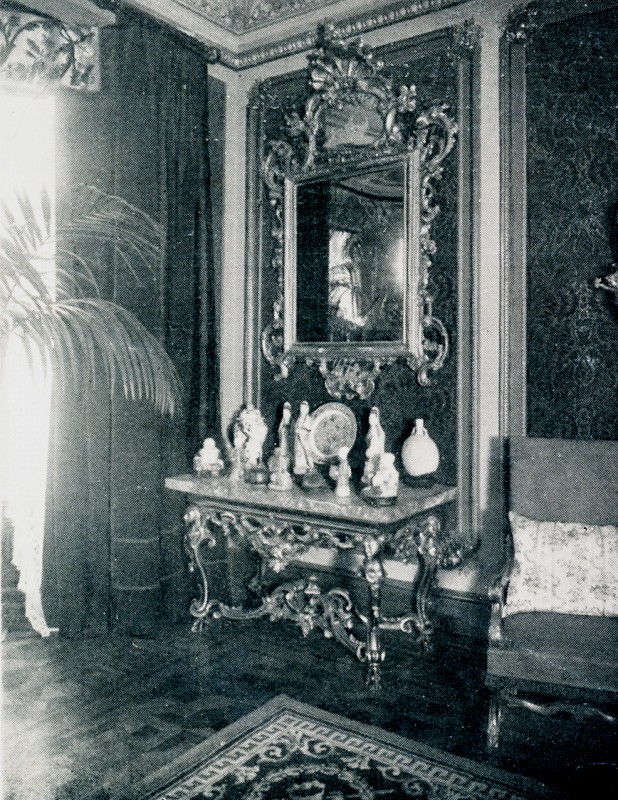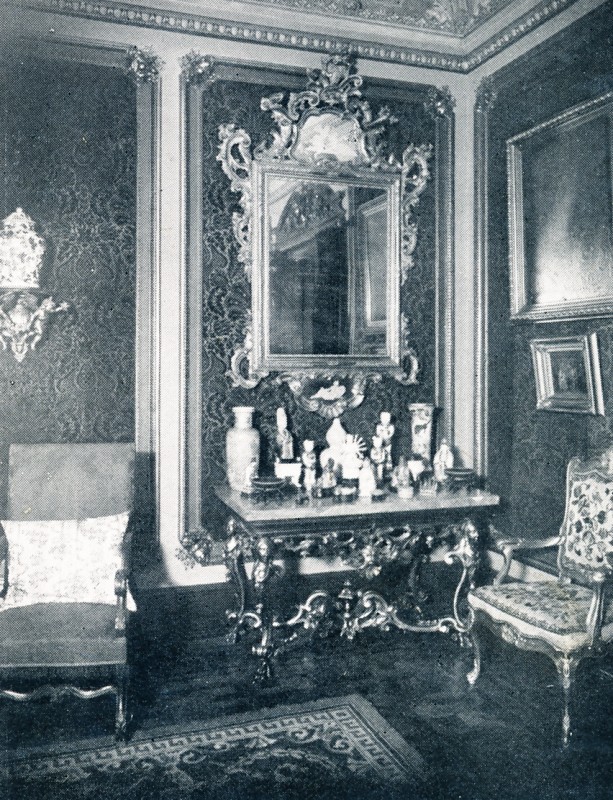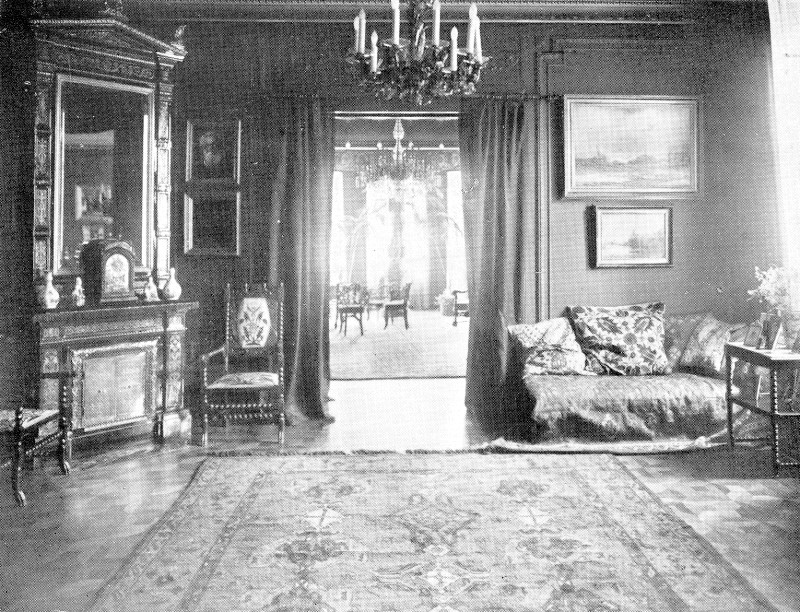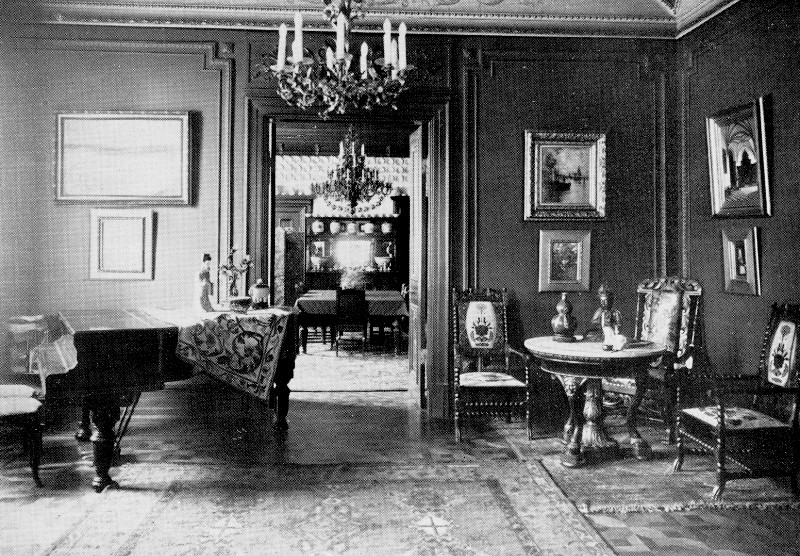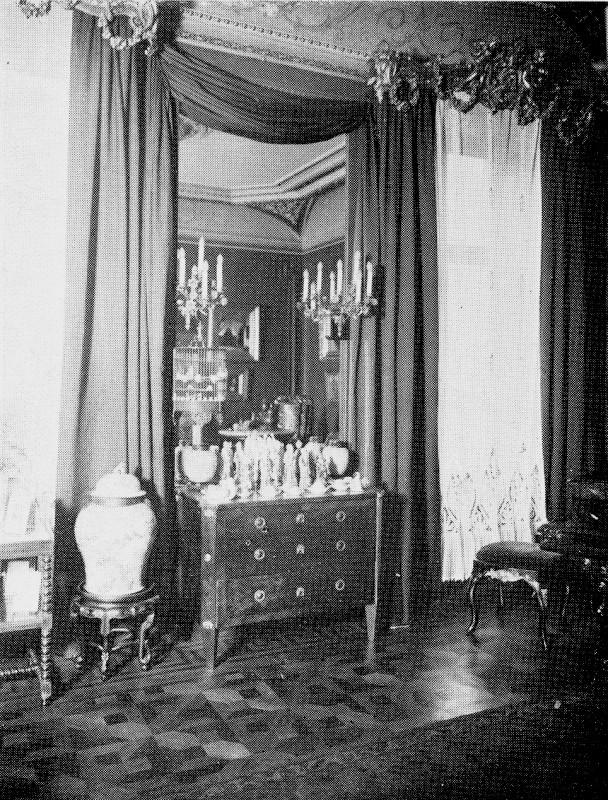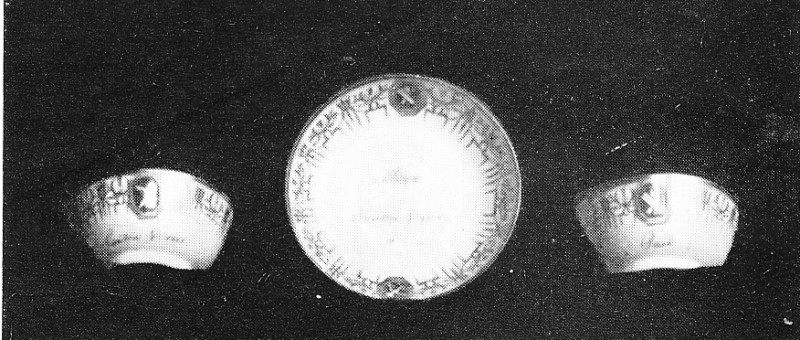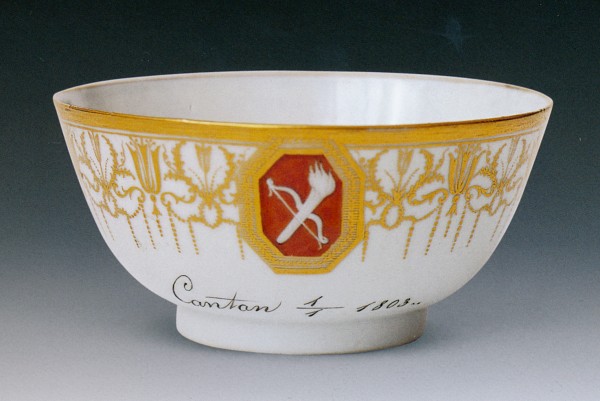 The Dining Room
The dining room is an unusual interior of its kind with an all-white ceiling and all-white walls, framed by beamed ceilings, friezes and panels of brown oak.
Most striking is the less common decoration of wall panels and door tops with rows and groups of more than 1,000 pieces of different kinds of Chinese porcelain objects: plates, dishes, pots, sinks, bowls, cups, jars, etc. the majority in camaïeu bleu, some browned, some with remnants of polychrome enamel painting.
Of particular interest are some small dogs of gray-blue porcelain and remnants of tableware of such porcelain with gilded indistinct mirror monogram, A. G. K. under what might be a Grand Duke's crown.
All these whole objects, along with about the same number more, of whole, and lots of broken ones, are about 20 years ago on the initiative of Consul Keiller and his brother-in-law Consul Carl Lyons taken from the wreck of the Swedish East India Company's ship "Gothenburg", which after returning from Canton 1745 ran aground and sank at Nya Älfsborg Fortress.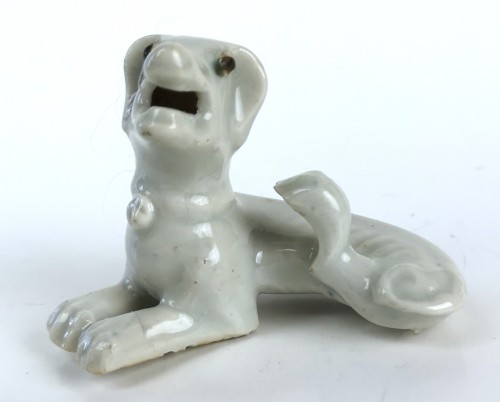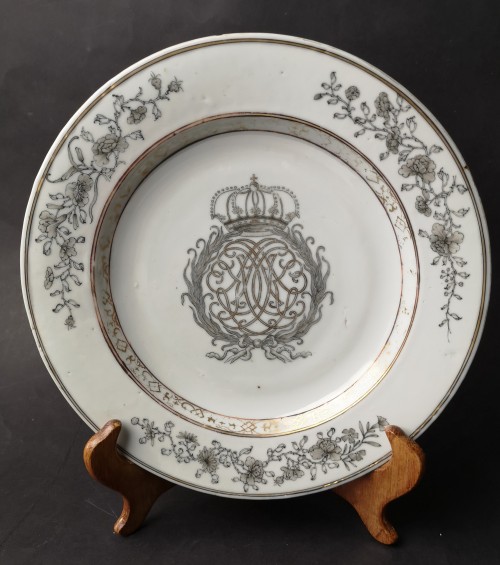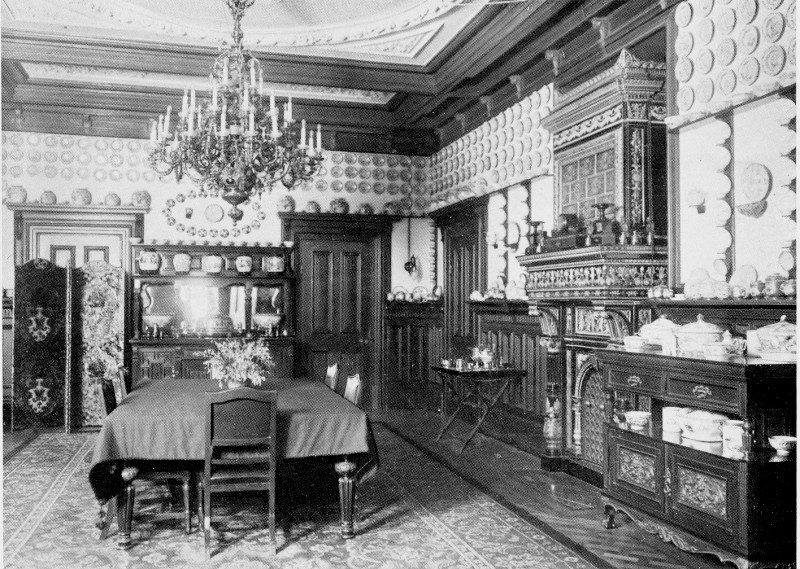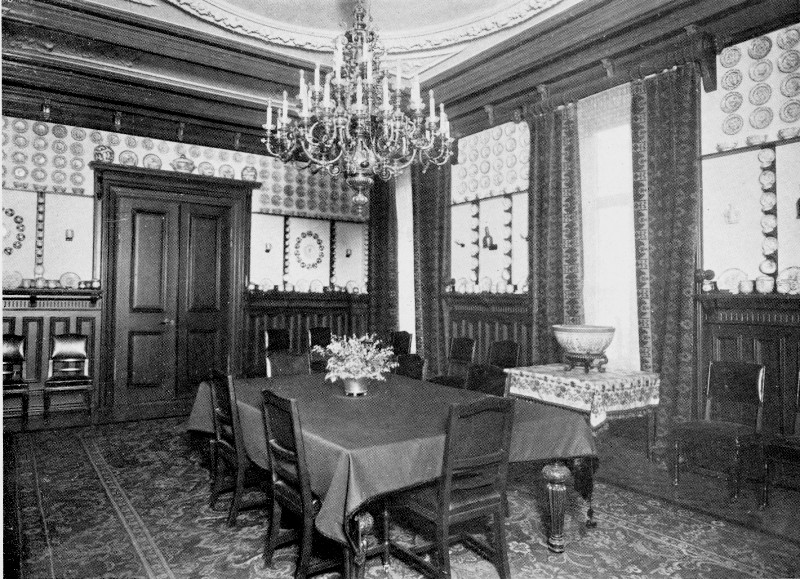 It is probably this unique acquisition of Chinese company porcelain (Qianlong) that aroused Consul Keiller's interest in this kind of handicraft and gave him insight into the rarely expensive collection of older Chinese porcelain objects, to which in our country many individuals have no equivalent.