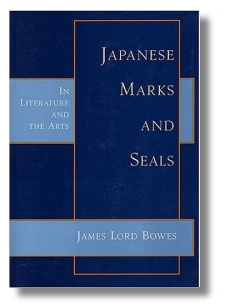 Japanese Marks and Seals, in Literature & the Arts
Japanese Marks and Seals by James Lord Bowes, Floating World Editions 2003, has just been released by Amazon.com and is an essential reference for those serious about trying to read the markings on Japanese porcelain.
First published in 1882, it has translations of hundreds of markings use on a wide variety of Japanese products, with the vast majority devoted to porcelain and pottery.
Only $35, and I say only because the hardback, long out of print is $300+ when you can find it. Text is in the public domain, so it can be freely reproduced without permissission. Limitations are that no markings after about 1865 (some later, but none later than 1882), and no photos or drawing of the pieces that contained the markings with only very minimal descriptions. However, it is a very good reference book.