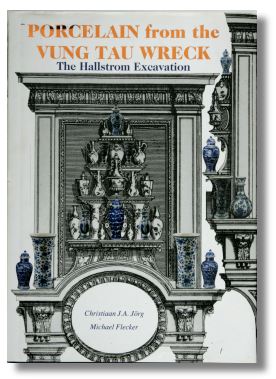 Porcelain from the Vung Tau Wreck: The Hallstrom Excavation
In the 1690s, a Chinese junk bound for Batavia and laden with ceramics for export to Europe, caught fire and foundered off Vung Tau, Vietnam. In the 1990s – and with the sanction of the Vietnamese government — a Vietnamese/Swedish team explored the wreck. A vast amount of mainly blue-and-white porcelain was found, and much of it was finally auctioned in Amsterdam, the cargo's original destination. This illustrated expert study describes the 17th century export trade of China-Batavia-Holland and details the artefacts found. In part 2 the ship itself is presented and the methods and course of the excavation are set out. With drawings and photographs, biblography and index.
This book is divided into two sections: the art historical study of the ceramic hoard and it place in the history of European trade with Asia and China and the excavation process. It also presents data and commentary on the systematic underwater fieldwork, documentation and the raising of the cargo.
Format: Hardcover, 172 pages
Published: 2001, Singapore
ISBN: 981045208X