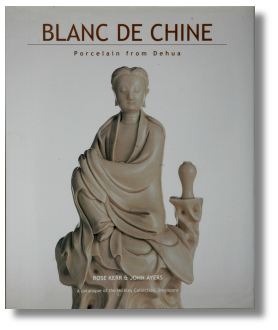 Of all new books on Blanc de Chinese this is my favorite. Its very complete and it is very well thought out. The Frank and Pamela Hickley major collection of blanc de Chine, the white porcelain traditionally produced in Dehua, Fujian Province, South China, was given to the Asian Civilizations Museum, Singapore in 2000.
Dehua porcelain, or Blanc de Chine as it is known in the West, is pure ivory-white porcelain made at the Dehua kilns in the southern Chinese province of Fujian. It rose to international significance in the 17th century and inspired aristocratic patronage in the development of European porcelain. Its popularity at home and abroad continued and the kilns at Dehua remain prolific to this day. This is the first comprehensive publication since P. J. Donnelly's pioneering study thirty years ago. An international group of specialists discuss how, why and when the Dehua porcelain phenomenon occurred. The book is also a catalog of the important Hickley Collection in Singapore. Each piece is illustrated in beautiful full color photography.
Four essays on the Dehua production and styles and on the world's major collections together with an interview with Mrs Pamela Hickley introduce the catalog. 134 pieces from the Collection are illustrated in color and annotated as to style and historical significance. The beauty and great diversity of blanc de Chine is impressively conveyed. Bibliography included.
This one and Donnelly and maybe two more books on Blanc de Chine and you should be pretty well covered regarding figures. If we go on and want to cover Dehua and even worse, Fujian wares, then there will be more books needed of course.
132 pages
Publisher: RoutledgeCurzon; 1 edition (December 30, 2002)
Language: English
ISBN-10: 0700717137
ISBN-13: 978-0700717132
Product Dimensions: 11.5 x 9.1 x 0.8 inches
Shipping Weight: 2.5 pounds