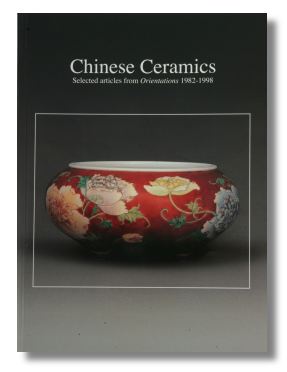 This substantial compilation of illustrated articles from 'Orientations' makes available new perspectives and the results of specialist research on many aspects of the history, design and production of Chinese ceramics.
This book just ought to be one of the best buys ever when it comes to substance. One slight drawback is that the book as such is compiled from a series of interesting articles.
Even if they so to speak covers the history of Chinese Ceramics, as a book, it lacks focus. But besides that, as a night table book, or the perfect reference look-up book if you are lucky enough to hit home on one of the topics covered. Very good.
Nobody hesitates about that this book is worth buying. Actually you should have subscribed to Orientation during 1982-2003 in the first place but if you didn't; here's a very good selection of the best of the best.
Format: Paperback, 430 pages
Published: 2004, Hong Kong, 2nd Edition
ISBN: 9627951325