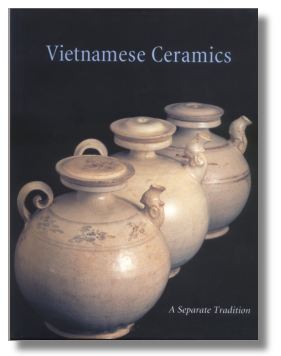 Vietnamese Ceramics: A Separate Tradition
Vietnamese ceramics exhibit a unique combination of indigenous creativity plus elements derived from other cultures such as China, Cambodia, Champa, and India. Decorative motifs, glaze types, production methods, perhaps even attitudes toward potting, differed distinctly from those of China. Using excellent clay from the Red River Valley — smooth, homogenous, gray-white-the Vietnamese created the most sophisticated ceramics in South-east Asia. The most definitive study of Vietnamese ceramics to date, this volume is a collaborative effort from experts around the world, including Vietnam, Japan, England, France, and the United States. Tracing the history and development of Vietnamese ceramics, the scholars examine the kiln sites of Vietnam, study techniques, and systematically categorize the field according to different traditions that had profound influence on the production of ceramics in Vietnam.
A superbly written and well produced book. Highly interesting and one that I personally find interesting to read together with other books, on for example Thai ceramics, for a better understanding of this South Chinese coastal area trade region and their ceramics.
JE
Format: Hardcover, 422 pages
Published: 1997, USA, 1st Edition
ISBN: 9781878529220