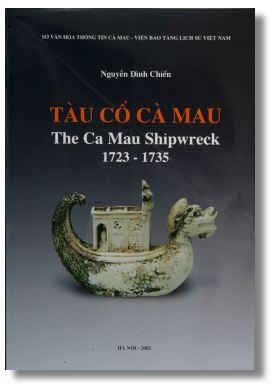 The Ca Mau Shipwreck 1723-1735
By: Nguyén, Dinh Chién
This is a very interesting book considering the time at which this ship appears to have sunk, as in pretty much immediately after the Kangxi period.
Quite a lot of the cargo consists of pieces that in the antiques trade usually has been given the label Kangxi. Since quite a number of the pieces actually carries the Yongzheng (1723-1735) reign mark, that theory obviously needs to go. This is a really good reference book for this expansive period in the history of Chinese Export porcelain finding its palace right between the Vung Tau cargo c. 1700 and the Gotheborg cargo 1745.
The book is of 258 pages (96 pages of text, 386 photographs, and 21 pages of ceramics designs) and many line drawings. The book was based on the report complied by the Excavations Committee together with data and records relating to the artifacts collected by the two provincial museums of Binh Thuan and Ca Mau, from 1998-2000.
The contents includes the archaeological excavations of Ca Mau shipwreck, the artifacts recovered from the shipwreck site and maps.
Author: Dinh Chién, Nguyén,
Museum of Vietnamese History and Ca Mau Provincial Museum (2003),
Language: Vietnamese and English,