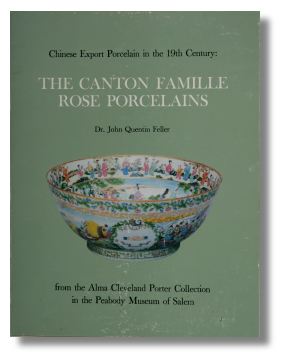 Chinese Export Porcelain in the 19th Century: The Canton Famille Rose Porcelains
This booklet is only 45 pages and in about letter format. I like to recommend it anyway since it is knowledgeable written and the pictures are of good quality. It is a fine book to be sure, full of helpful and interesting information. I think this could actually be quite useful in particular on the US market where this porcelain is more common than in Europe at a very modest price. For dating, David Howard Chinese Armorial Porcelain II cover this period too and is more all round, so if you got Howard II, you might not find that this booklet adds that much. But, there is also a difference in size, price, and scope.
As a small comment I personally prefer to reserve the famille rose name to porcelain from the 18th century and to call this porcelain Rose Medallion family, but maybe this does not matter much.
As a pure curiosity the author was also a very special guy. There was a lot of talk about this at the time. The author, John Quentin Feller, a University of Scranton professor and expert in Chinese porcelain was one of the most accomplished and compulsive art thieves in American history. Feller admitted walking off with more than 100 items from eight different museums. Interestingly, he donated many of his stolen goodies back to other cultural institutions, earning himself something of a reputation as an art world Robin Hood. He managed to carry on for almost 20 years before being caught and sent to prison in 1991.
Paperback: 45 pages
Publisher: Peabody Essex Museum (August 1982)
Language: English
ISBN-10: 087577069X
ISBN-13: 978-0875770697
Product Dimensions: 10.8 x 8.3 x 0.2 inches
Shipping Weight: 9.6 ounces