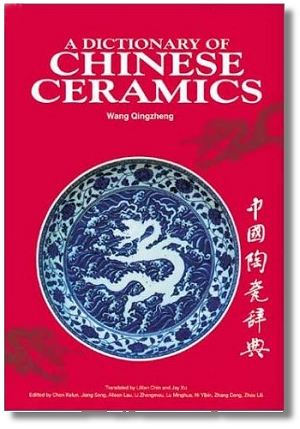 A Dictionary of Chinese Ceramics
Hardcover: 368 pages
Publisher: Sun Tree Publishing (April 1, 2003)
Language: English
ISBN-10: 9810460236
ISBN-13: 978-9810460235
Product Dimensions: 13.1 x 9.8 x 1.6 inches
Shipping Weight: 6.5 pounds
I met with Mr. Ma, the former head of the Shanghai Museum several times, from the relocation of the Shanghai Museum to the new premises and then on when the new Museum was established. I felt that that museum is a corner stone in the preservation of Chinese bronzes and ceramic art.
From the mere fact that the author of this book has served as a deputy director there … makes me think this book is worth having. You can question some of the entries and disagree with some but on the whole I think this is ok if you like dictionaries. If you don't, this is utterly indigestible.
If you are thinking of something for the bedside table, it won't fit. It's huge. But as one reference of many that needs to be consulted and can give you a quick answer on any definition as well help in sorting up the sometimes confusing topic of Chinese ceramics, this would be the book to have.
Containing more than 2,500 entries and over 1,000 color plates and black and white drawings together with maps, chronology and time charts complement the text. The book addresses artistic, stylistic, technical, and historical aspects of Chinese ceramics.
The 2000 plus entries are grouped as: Shapes and forms; Ceramics materials and manufacture; Kiln sites, factories, guilds and wares; Decoration methods, glazes and colors; Motifs; Marks and Inscriptions; Potters, books and studies of ceramics. Indexes are in English and in Pinyin together with listings of literature cited and locations of museums and institutions.
Wang Qingzheng has written numerous books on Chinese Ceramics: Yuan, Ming, and Qing Dynasties, The Treasure of China's Beauty: Ceramics, The Complete Works of Chinese Ceramics: Yuan Dynasty, and The Complete Works of Chinese Ceramics: Qing Dynasty. He has served as deputy director of the Shanghai Museum and is currently honorary director of the Bowers Museum.
Dictionary of Chinese Ceramics, by Wang Qingzheng
Hardcover: 368 pages
Publisher: Sun Tree Publishing (April 1, 2003)
Language: English
ISBN-10: 9810460236
ISBN-13: 978-9810460235
Product Dimensions: 13.1 x 9.8 x 1.6 inches
Shipping Weight: 6.5 pounds