Thai Ceramic Art:
The Three Religions
By: Guerin, Nicol & Dick Van Oenen
The publication is a detailed study on the 14th-16th century Thai ceramic wares that played a role in the local Buddhist and animist religious ceremonies, approached from an art historical point of view. It also establishes the degree of interaction between the many cultures that influenced the form, design, function and usage of these wares, and draws on the underlying historic, religious and stylistic linkages with India, China, Sri Lanka, Burma, Cambodia and other parts of Southeast Asia.
A background to the history, politics, and cultural practices of Thailand introduces the subject, followed by a systematic analysis of the Thai products. Throughout the study, comparisons are made with other Asian cultures, decorative styles and chronology, which add further dimensions to a hitherto relatively unexplored art form. With photographs, maps and line drawings.
The authors spent 20 years on the subject and examined over 800 pieces, consisting of sculptures of human beings as well as of animals, and a huge quantity of vessels made for various religious rites and rituals. They examined mostly glazed stoneware produced between 1459-1650, when the kilns at Sukhothai and Sri Satchanalai (Sawankhalok) flourished. These 800 pieces were in many different collections around the world and the authors visited many private collections and museums, including those in Singapore, during their research. A useful list of these collections is included in the book.
They did an excellent job detailing the many varieties of shapes and forms produced and adds a good introduction to the political, historical and cultural history of the period.
In her review of this book Dr. Roxanna M Brown, Director of the Southeast Asian Ceramics Museum, Bangkok University, calls this book foremost "inspirational" which I choose to interpret that it contains a fair amount of guesswork. I think we should be ok with that and just keep it in mind that we actually don't have that much written history from 1000 years back in former Siam. We need to study, compare and interpret which I also take as the common meaning that the authors of this volume have done well. All in all, a highly recommended book.
Read her review here: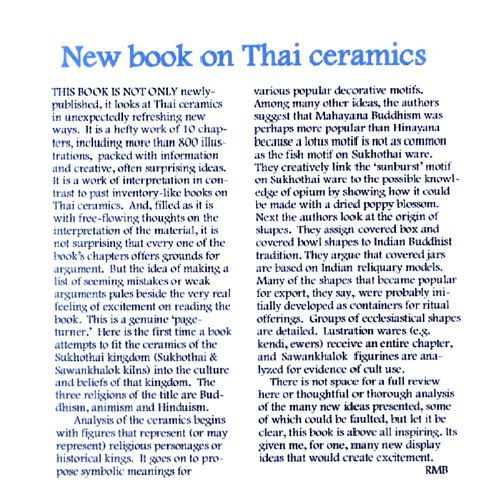 Format: Hardcover, 310 pages
Published: 2005, Singapore, 1st Edition
ISBN: 9810507364