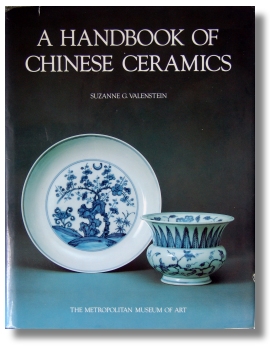 A handbook of Chinese ceramics
Covers ceramics from the Neolithic period to the present. This is a good "summary" and draws on pieces from the Metropolitan Museum of Art. The illustrations are good and the text concise and on the dot. There is something as too much, when it comes to information and this is "enough" in most cases. It is a good buy if you are looking into just one book. I like it because I can trust the information, and the selection of pieces is a good one. Does this sound like you have heard it before? Well, they are very similar but there are much more pictures in this then in Vainiker. The outlook is mostly technical.
The 2nd ed. New York: Metropolitan Museum of Art, 1989 is a partially rewritten and much enlarged edition, the work includes an index, more illustrations and new information from recent archaeological discoveries. It provides a description of the Metropolitan Museum's collection, but also gives a history of Chinese ceramics.