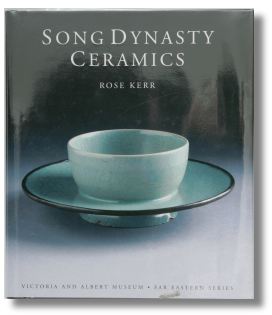 Song Dynasty Ceramics (Victoria & Albert Museum Far Eastern)
I would say that this is currently the number one book on Song ceramics right now. This volume highlights over 118 objects from the Victoria & Albert Museum's magnificent collection to discuss China's great age of ceramic production (1960-1279). The book is illustrated with many of the finest examples of Song ware in the Western world, many of which look astonishingly modern. The text, including research never before published in English, is complemented by newly taken photos.
The V&A's collection of Song Dynasty ceramics ranges from rare and precious items to many interesting study pieces. In the last twenty years new research in China has led to a great expansion in knowledge about this fascinating ear. Rose Kerr has traveled to China annually and has brought together in this book the fruits of this research, much of it now published in the West for the first time. She uses it to provide context for the remarkable pieces illustrated here, and to bring the subject up-to-date for an English-speaking audience.
Rose Kerr are the former deputy keeper of the Asian department at the V&A Museum and is a much appreciated world authority on Song ceramics.
Format: Hardcover, 128 pages
Published: 2004, United Kingdom, 1st Edition
ISBN: 1851774157