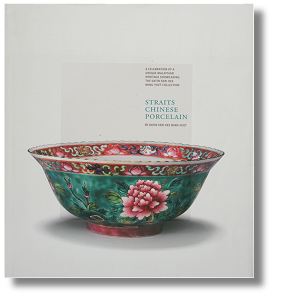 Straits Chinese Porcelain: A Celebration of a Unique Malaysian Heritage Showcasing the Datin Seri Kee Ming-Yuet Collection, by Ming-Yuet Kee, is quite a large book with its 28×30 cm impressive frame.
This lavishly illustrated book is a celebration to "Straits Chinese Porcelain as a Malaysian heritage". This heavily sponsored publication is a catalog of the personal collection of Datin Seri Kee Ming-Yuet, who is also the author. The authentication of the porcelain is credited Professor Qin Xi Lin and Dr. Cao Jian Wen of the Jingdezhen Ceramic Institute.
The book features more than 150 pieces dating from the late Qing dynasty and the early years of the Republic are featured. Among them are plates, tea sets, wine warmers, jugs, teapots and bedroom sets. Most of them in undisputed Straits Chinese decoration while a few more general export patterns also have got some recognition. Each piece is accompanied by a detailed description, which are quite interesting both for the porcelain collectors as well as those wanting to become more familiar with the Baba Nyonya culture of the Malaccan peninsula.
Beside some patriotic slants in perspective the book contains quite a lot of information of this unique type of porcelain, its history and decoration. The full color photographic illustrations are stunning of the shapes and decorations that the author chooses to show. The only week point I can think of is that the definition of what constitutes Straits Chinese porcelain could have been tighter. Some of the undisputed glory of this magnificent ware is thus maybe not coming to its right but despite this, the book is an excellent starting point.
Format: Hardcover, 227 pages
Published: 2004, Malaysia, 1st Edition
ISBN: 9789833214020