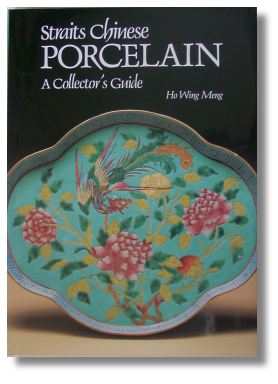 Straits Chinese Porcelain: A Collector's Guide, by Ho Wing Meng
This is my favorite among the books that details Straits Chinese porcelain. The first edition appeared in 1983 but was soon followed by a second, amended, updated and corrected. For the casual browser the first edition would be perfectly all right while if you are more stringent with getting everything right you would want as late edition as possible of this book.
This beautifully illustrated volume presents Straits Chinese porcelain, an outside South East Asia little known category of 19th century polychrome enameled porcelain made in China, exclusively for export to the Straits Chinese communities of Southeast Asia. Some marks, glossary and bibliography included.
Format: Hardcover, 144 pages
Published: 1983, Singapore, 1st Edition
ISBN: 9789812327581