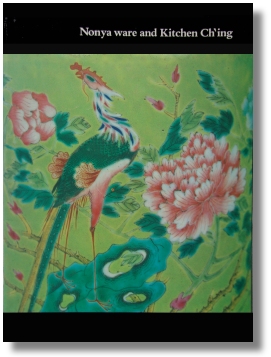 Nonya Ware and Kitchen Ching (South East Asia Ceramic Society)

This is a fundamental and quite interesting exhibition catalog of a little published kind of Chinese export porcelain, that went to South East Asia during the 19th century. Som was for every day use, some for restaurants – food hawkers – and some for altar and ceremonial use. If you live in Singapore or Malaysia this is a "must have". I also think that most other collectors interested in the not so expensive common wares of our last few hundred years would find this interesting.
Exhibition held in Muzium Seni Asia, University of Malaya
Kuala Lumpur 1981.
128 pages
Well illustrated with 35 color pictures, 200 catalog pictures in b/w.
plus numerous other b/w figures and maps.
First printing Oxford University Press, 1981 (3000 copies).
Second printing, 1991 (1500 copies).
ISBN. 0-19-582516-0