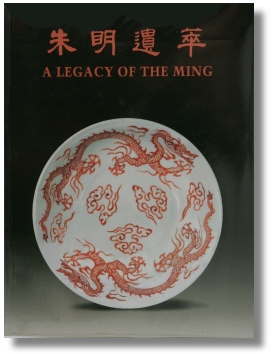 A Legacy of Ming: Ceramic Finds from the Site of the Ming Palace in Nanjing
Since the 1950's, several important excavations of porcelain wares have been conducted at the site of the Ming Palace in Nanjing, which has proved to be another important find for Ming ceramics in addition to Jingdezhen. In 1964, while the city dredged the Yudai River, ceramic archaeologists from the Nanjing Museum found a large number of ceramic shards, mainly blue and white wares dating from the late Yuan to the early Ming reigns of Hongwu, Yongle and Xuande. Through careful analysis and extensive research, their findings help identify wares of the Hongwu reign and styles and development of porcelain wares in the Yongle and Xuande reigns. The archaeologists also recognized wares produced in the interregnum period during the three reigns of Zhengtong, Jingtai and Tianshun.
This comprehensive catalog features more than 200 shards illustrated in color-including lead glazed tiles and bricks, porcelain bricks, triangular and circular tile terminals, monochromes, blue and whites and polychromes-together with detailed descriptive entries and two introductory essays.
Paperback: 180 pages
Publisher: Museum and Art Gallery, University of Hong Kong; 1 edition (December 1995)
ISBN-10: 962710132X
ISBN-13: 978-9627101321
Product Dimensions: 10.9 x 8 x 0.5 inches