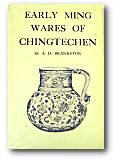 This is the most charming book that is likely ever to be published on the subject of early Chinese porcelain.
This book is a collector's item in itself and I highly recommend it for the understanding of early Ming.
The personal enthusiasm and brilliant mind of the author goes a long way to explain why we collect Chinese porcelain in the first place. This is a good friend to have in the book shelf. Go for a first edition if you can find one, for the "ambiance".
CLASSIC – on understanding early Ming