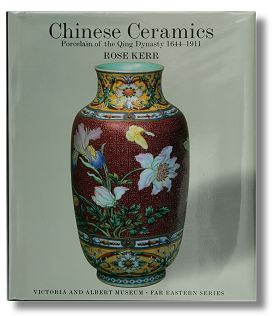 Chinese Ceramics: Porcelain of the Qing Dynasty 1644-1911)
Comparably thin but a very important book. For those with a serious interest in Imperial Chinese porcelain.
Drawing from examples of V & A collections, the study is a useful introduction to Qing ceramics, focusing on objects produced for domestic use. Has a very useful chapter on sources in Chinese, French and English on the history of Jingdezhen. Also discussed is Jingdezhen kiln technology.
I think that when I am thinking about a good beginners book to recommend, it is not a book about cheap porcelain you can find at flea markets I am thinking of, but this book, for example, that in a modest format explains why Chinese porcelain is an exceptionally interesting art form and how come peopele are prepared to pay millions of $ for just one vase or a dish. I think that is where we should all begin, and then scale down towards what we can afford but with the goal in mind, that one day we should own at least one of these pieces.
CLASSIC
Recommended beginners introduction
on Chinese Imperial ware