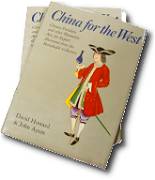 China for the West: Chinese Porcelain and Other Decorative Arts for Export Illustrated from the Mottahedeh Collection
When I met Mildred Mottahedeh in New York in 1978 this book set was just off the presses, so I could talk her out of a signed copy for myself. She and her husband had single-handedly pushed up the auction prices on export porcelain to never before seen heights and this was the result. Their collection, catalogued and described by two of the most knowledgeable scholars in the field.
There were at the time nothing like it on the market and I would say as an individual book, even if it happens to be a set of two, it has not yet been rivaled. In its dry manner it is very British. I can recognize David Howards very knowledgeable but light-hearted academic prose. This is a set of two books and the definitive must have if you are interested in Chinese export. This is a must. A very large proportion of all "classical" export patterns from the 18th century are illustrated and described. There are certainly more pieces and decorations around of importance that are not here, but this book is a must and very practically so too.
CLASSIC – on Chinese export porcelain in general