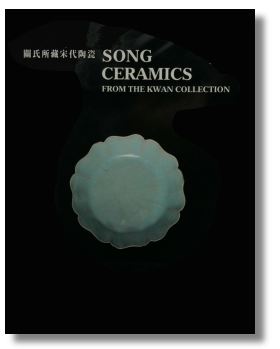 Song Ceramics From the Kwan Collection
This is a catalogue from an exhibition at the Hong Kong Museum of Art in 1994. If there is one book that I would not want to be without when it would come to identifying Song ceramics, this would be one of them. The choise would stand between this, Jan Virgins Song Ceramics, or the Mary Tregear's similarly named Song Ceramics below.
If it is not in any of these three books, it is probably not Song. One important feature that sets this book aside from most other is that the base and footrim on all pieces are all illustrated. The difference between them is otherwise that this is a recently brought together top quality collection; good, but not as intersting as for example the Carl Kempe collection, now in Ulricehamn, Sweden. Jan Virgin's book is actually his doctoral thesis and is specialiced on decorations, and is fantastic in its scope of illustrating richly varied – genuine – pieces. Mary Tregears book is interesting, since it illustrates – in color – lots of common and comparably easily to find Song and Yuan "trade" ceramics.
Hardcover: 455 pages
Publisher: Hong Kong Urban Council; 1st edition (1994)
Language: Chinese with foreword and captions in English
ISBN-10: 962215123X
ISBN-13: 978-9622151239