Tang Ceramics – Changsha Kilns
By: Timothy See-Yiu Lam
That this book is an absolute necessity for anybody collecting Changsha is obvious but it goes beyond that. It is written by a collector and one of those gifted persons who have this elusive "understanding" of what he sees. That talent is very rare and worth taking care of in any form it appears.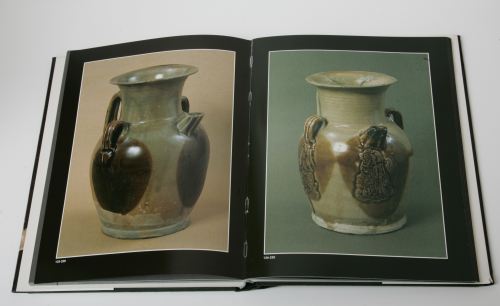 The point being that even if I don't particularly were looking for Changsha pieces, I would benefit greatly from this book because it helps me understand early Chinese pottery, sharpen my eyes and help me understand more about what to look for in genuine pieces in general. Besides, it is a quite interesting book. I know this is a bit on the short side for this large book, but go look for it and you will see.
This volume is the result of much careful effort and enterprise on the part of the author. For the visual documentation alone the book is well worth having in the libraries of all those interested in Chinese ceramics. (South China Morning Post, Aug. 11, 1990)
It deals almost exclusively with the pottery products from the Changsha family of kilns in Hunan province during the Tang Dynasty (AD 618-907). The book includes information on basic pottery culture, historical background, poetry, calligraphy, and ornamentation and decoration of ceramic wares.
Library Binding: 367 pages
Publisher: Lammett Arts; 1 edition (July 1990)
ISBN-10: 9627468010
ISBN-13: 978-9627468011
Product Dimensions: 11.1 x 8.4 x 1.5 inches
Shipping Weight: 4.2 pounds