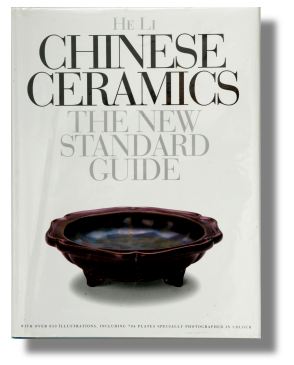 Chinese Ceramics: The New Standard Guide

WILL BECOME CLASSIC – Best starting point – Must have
If you really just want one book on Chinese porcelain, I would recommend Chinese Ceramics, by He Li. It covers it all, it's modern, it's up to date and it shows good quality pieces from the entire Chinese history and it gives splendid value for money.

It focuses on quality porcelain of museum, collectors and investment interest however money or the value of anything is never mentioned.
This book is a good general reference book on every area of Chinese Ceramics. Twin brick size and a "must have" on all topics on Chinese Ceramics. It complements almost all various fields within Chinese ceramics but is also a good starting point that covers it all, and gives a perspective. I doubt that anyone will ever outgrow this reference work. You can add to it but outgrow, well, not in the forthcoming decades.
Click the picture / link above for a second hand book (usually OK),
Use this link for a brand new copy:
Chinese Ceramics: A New Comprehensive Survey from the Asian Art Museum of San Francisco
Printed: New York, 1996.
A dated complement
If your interest is wider than ceramics, there is an old classic by William Willets, Foundations of Chinese Art (London 1965), I warmly recommend, even if it is a bit dated and un-glossy in the age of the iPad. It reflects very much of the Swedish, I would call a bit solemn, view of the old Chinese culture.