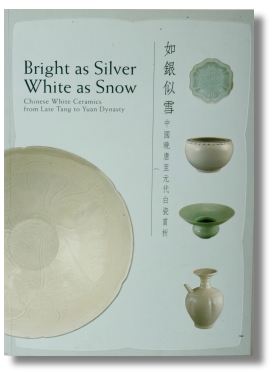 Bright as Silver, White as Snow
Kai-Yin Lo Collection of Chinese ceramics
This book accompanied the exhibition of the Kai-Yin Lo Collection of Chinese ceramics at the Denver Art Museum from October 1, 1998 – September 30, 1999, featuring white and Qingbai wares from the Tang to the Yuan dynasty.
The catalog includes essays on such topics as life in the Song dynasty, white wares of north and south China, the development of white and Qingbai wares, material culture in the northern Song, and pictorial perspectives on Hangzhou during the Song accompany the detailed color photographs and descriptions of the pieces in this collection.
As usual with catalog's they offer fairly good value for money. There is a lot to read since the first 80 pages are essays by eminent scholars like Regina Krahl, Li Zhiyan, Roderick Whitfield and Sören Edgren. The plate section that begins at page 85 is particularly strong with regards to Qingbai while the presentation of earlier wares doesn't really cuts it. The strength is the essays and the presentation of Song dynasty Qingbai where illustrations of the bases are included. I would give this book an overall four stars for the essays and Qingbai presentation. When it comes to how necessary it is to have this book, I think it comes somewhere in the middle of the field.
Maps, a chronology and bibliography included.
Format: Paperback, 208 pages
Published: 1998, Hong Kong, 1st Edition
ISBN: 9789627502395
Authors: Regina Krahl, Li Zhiyan, Roderick Whitfield and Sören Edgren.
Publisher: Art Media Resources
Format: Paperback, 208 pages