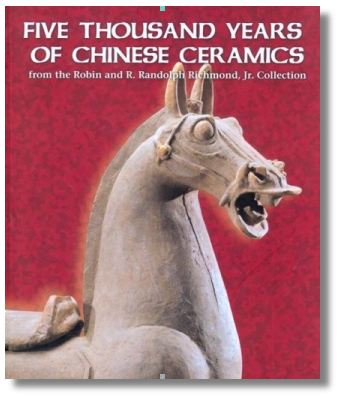 Five Thousand Years of Chinese Ceramics: From the Robin And R. Randolph Richmond, Jr. Collection
This catalog of ceramic artifacts created in China over the last 5000 years was published to complement the donation to the New Orleans Art Museum in 2000 of the notable Richmond Collection. A chronology and illustrated introductory essay on the history and development of Chinese ceramics is followed by 100 full-page color photographs of selected ceramic objects of many kinds. Full descriptions and provenance details are appended. With bibliography and sketch map.
This volume illustrates one hundred works from a significant and wide-ranging collection of Chinese ceramics, including works of the Chinese potters' art from the Neolithic through the Yuan dynasties (approximately 4000 BC through the 14th century), with works from the major traditions and kilns. It showcases the extraordinary achievements of Chinese potters in both earthenware and stoneware, and in ceramics made for use in this world as well as the afterlife.
One of the earliest works included is a product of the late phase of the Dawenkou culture (c. 2800-2400 BC), one of China's several, co-existing Neolithic cultures characterized by distinctive pottery. Examples of funerary art from the Han and Tang dynasties are included, and finally Song wares that embody a literati aesthetic.
Format: Paperback, 144 pages
Published: 2005, USA, 1st Edition
ISBN: 0894940945