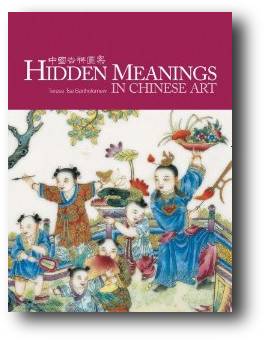 Hidden Meanings in Chinese Art,
By: Bartholomew, Terese Tse

"Terese Tse is a well known scholar and curator at the SF Asian Art Museum and this is a monumental work. It covers what is in Fang Jing Pei's book, Rebuses in Chinese Art, and much more. It really encompasses the subject well and I am really pleased with all the info. "
9.25 x 12.25″, 351 pp., profusely illustrated in color, bibliography, English-language index, Pinyin Subject index, Pinyin Auspicious Phrase index, cloth, d.j., San Francisco, 2006.
Published on the occasion of the exhibition: Hidden Meanings: Symbolism in Chinese Art, presented at the Asian Art Museum of San Francisco from October 7 through December 31, 2006.
Have you ever wondered why a Chinese vase is decorated with peony blossoms? Or peaches? These auspicious symbols often represent hidden wishes for happy marriage, prosperity, long life, peace, and more. Learn about these symbols and others as revealed through Ming and Qing dynasty porcelains and jades in this unique exhibition. You will see more than 140 exquisite artworks–many of which were made for the Chinese imperial courts–that shed light on the time-honored tradition of auspicious symbolism in Chinese culture.
Hidden Meanings in Chinese Art brings a systematic approach to the cataloging of such hidden meanings. The book is divided into 10 chapters, guided by the 3 Star Gods, Fu (blessings, happiness), Lu (wealth, rewards) and Shou (longevity). Fu governs chapters one through three, on blessings, marriage, and children. Lu governs chapters four, five and six, on passing exams, gaining official rank, and obtaining wealth. Shou governs chapter seven, on longevity. Three additional chapters survey motifs for peace, wish-granting, and festivals.
Soft cover versions are less expensive and can be found here
ISBN 0939117363
Asian Art Museum of San Francisco