Chinese Porcelain Marks
Ming Dynasty (1368-1644) reign marks
Here you will find a type chart of what the marks of the Ming dynasty looks like, plus a few samples of genuine marks from the different periods. Genuine marks can look very different from the ones I show here, but still be genuine. However, if the difference is too big, there might be a problem with the mark you have at hand.
The number of artists entrusted to actually draw the Imperial mark on the porcelain made at the Imperial porcelain was actually quite limited, and their individual handwriting can often be recognized.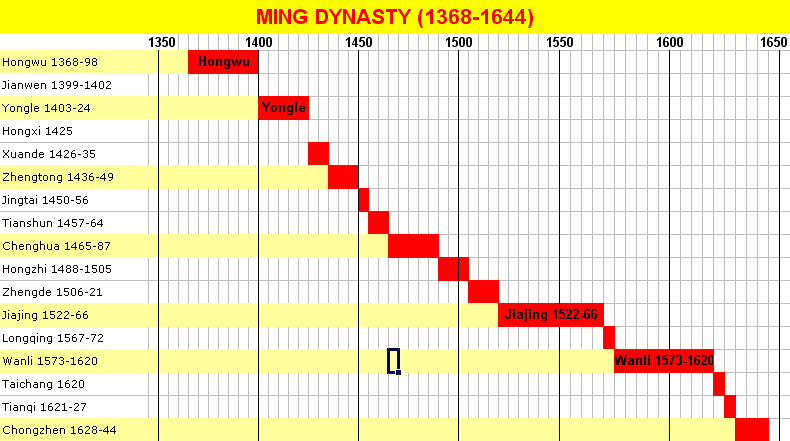 What makes things difficult is that the Ming dynasty was actually quite a long time ago, it's actually called Medieval times in most of the world, and mankind was actually trying things out, that they were about to do for the very first time. So, there were no set rules to a lot of things. Like what requirement you need to have on porcelain that was about to be considered "Imperial" about half a millennia later. This said, what I am aiming at is that some of the porcelain that was delivered to the Imperial court in Beijing, in particular by the end of the dynasty, was most probably just commissioned from the better of the private kilns. This means that at this time there are no complete agreement among scholars about what was imperial and not. We can guess, but most likely we can never know for sure what was made for the court or not.
Marks are helpful but as a general rule the last thing you should trust while trying to establishing a date on a particular piece of Chinese porcelain. By a careful study of all technical and artistically features - including the mark - the authenticity of most Chinese porcelain is posible to establish. We should however be aware of that the best copies are those still not detected.
Hongwu 1368-1398
Hongwu 1368-1398
Yongle 1403-1424
Yongle 1403-1424
Xuande 1426-1435
Xuande 1426-1435

The Xuande mark is said to have been written by the famous calligrapher Shendu, since the official mark of Xuande is following his hand writing.
Chenghua 1465-1487
Chenghua 1465-1487

It is thought that during the Chenghua period there were only one calligrapher writing all marks on all official porcelains. I am not sure we can assume that, regardless of what the mark looks like. In the early 1990's I discussed this with Liu Xinyuan head of the excavations in Jingdezhen at this time, while spending some time studying their finds. He told the reason why the Chenghua mark looks like it does - in his opinion - was because the original mark was written by the emperor while he was quite young, and his handwriting was not so good. Whatever the case is, the Chenghua mark is inelegant, thick, often imbalanced and immature. Some common characteristics of the Chenghua porcelain mark by whatever hand but true to the period:

1) First character "Great" - the beginning of the second stroke seldom extends much beyond the first stroke, looking stubby, but when it occasionally does the beginning is fat; third and final stroke ends thickly.
2) Third character "Cheng" - the third stroke descending is not curved but straight and vertical.
3) Fifth character "Nian" - the character is unusually squat and square.
4) Last (sixth) character "Zhi" - the ninth stroke does not extend beyond the standing knife (li-dao) radical.
5) The final "tails" on most characters (e.g. last stroke of "cheng", third stroke of "hua") are abrupt and sharp, like fish hooks.
6) The surrounds when square are thick with ink at each right angle.
7) The mark in general is faintly obscured, as if covered with a thin haze.

Hongzhi 1488-1505
Hongzhi 1488-1505
Zhengde 1506-1521
Zhengde 1506-1521
Jiajing 1522-1566
Jiajing 1522-1566
736. Fu Gui Jia Qi - 'Excellent Wares for the Wealthy Nobility' or 'Beautiful Vessel for the Rich and Honorable'.


An auspicious inscription on folk wares, mostly seen on blue-and-white porcelain made in Jingdezhen in the Jiajing and Wanli reigns of the Ming dynasty and also seen on wares with gilt designs produced in the Jiajing reign. Chakra or, the flaming wheel-design on the inside. Estimated date C. 1600 according to some sources but probably Jiajing. Coll: Musée Antoine Lécuyer of Saint-Quentin (Aisne), France.

Click here to see large picture
Longqing 1567-1572
Longqing 1567-1572
Wanli 1573-1620



Wanli 1573-1620
Tianqi 1621-1627


Tianqi 1621-1627
Chongzhen 1628-1644
Chongzhen 1628-1644
Web design and content © Jan-Erik Nilsson 2001-2010. Help on this page gratefully acknowledged: by Simon Ng, Hong Kong, "Tony" Yalin Zhang, Beijing and "ScottLoar", Shanghai.