Chinese Export Porcelain // Hand and Reference Books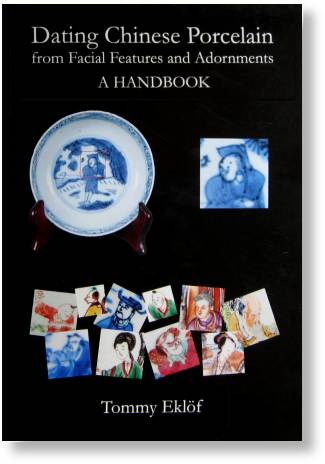 This book is the result of years of original research, following a new line of thought when it comes to Chinese porcelain decorations. The observation is a simple one, that in creating decorations that involves people, the artists would somehow be considering the fashion of the day in their depictions.
Even if the figures in the decorations were not contemporary, Tommy Eklöf felt that still, the mannerism used in the artists renderings would change over time and then still create a hereto overlooked way to date and authenticate Chinese porcelain – based on facial features and adornments.
After an original research that have taken several years and several thousands of objects – carefully dated by consensus among experts as well as by traditional means – this book now covers the period from the late Ming dynasty, throughout the Qing dynasty and the Republic Period, up to the present day.
While nothing can beat actually handling an object, this book is a shortcut to learning to see the details that the experts are looking at.
It is a must have for dealers appraisers and auction houses, as well as the collector, hoping to "beat the game" by knowing just that little more about what tells the copies from the originals.
While reading a book is always good, to be able to ask the author is better. Included in all purchases of this book regardless of from which reseller you buy your copy, is one month (30 days) free membership in the Gotheborg.com Discussion Board where the author is a senior member.

More information of the book can be found here http://dragonsface.se
Click here to buy the book via the Gotheborg.com Webshop
Paperback: 163 pages
1st edition 2013
Author: Tommy Eklöf
Language: English
ISBN-10: 9163733374
ISBN-13: 978-9163733376
Product Dimensions: 11.7 x 8.3 x 0.4 inches
Shipping Weight: 1.4 pounds