Aubergine (Brinjal / Eggplant) Qiepi zi monochrome glaze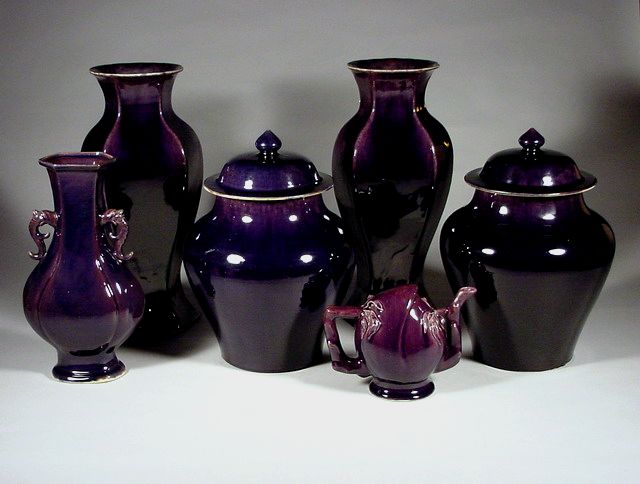 Descriptive name of purple enamel color on Chinese porcelain. The 'aubergine' colored enamel was made from a manganese containing byproduct from the purification process of the Chinese local cobalt, where this was processed into a pure sapphire blue.
Different shades of Aubergine from intense 'brinjal' purple to brown and light watery purple were all made by the Chinese low-grade cobalt-iron-manganese ore mixed with lead and quartz sand.
A special type of Kangxi period porcelain bowls being left unglazed and then decorated with incised decoration with white, yellow and/or green on a (brinjal-) purple ground are specifically known as "brinjal bowls". They occur with aubergine, yellow or green ground with the other colors used for the decoration. When white, the unglazed porcelain body is shown through a thin layer of clear glaze.
A similar type of bowls are called "egg and spinach" since they are decorated with yellow and green splotches. This decoration belongs as a type to su-sancai and originates from Tang sancai, occurs as late Ming fahua and develops somewhat into famille verte and famille jaune, typically of the Kangxi period, as well as continues on its own into modern time.
Se also enamels