Palace 'Peking' Bowls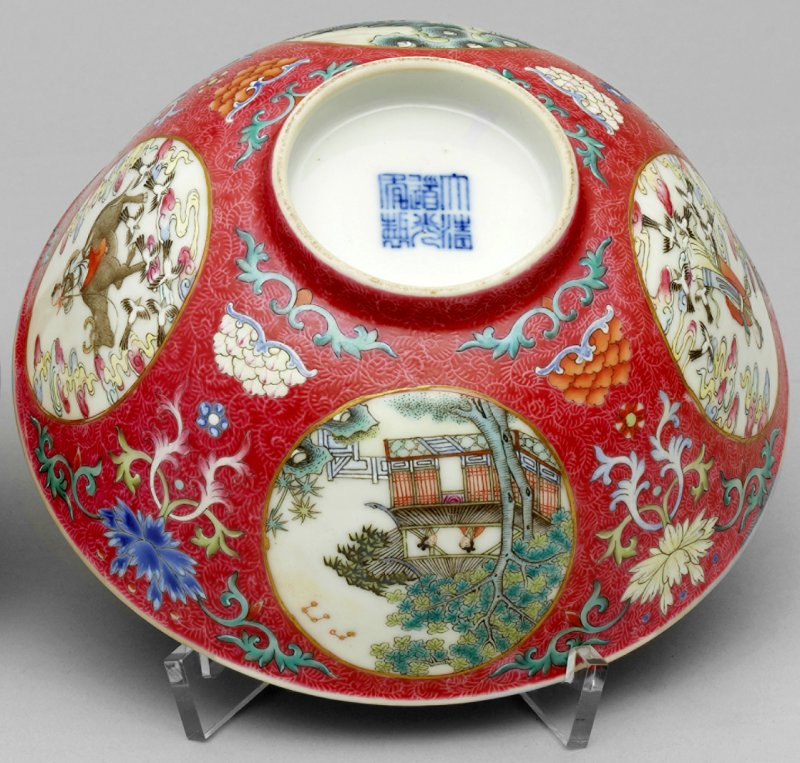 In old catalogs and literature bowls with this kind of decoration was called medallion or 'Peking' bowls. A similar example in the Palace Museum, Beijing, illustrated in Porcelains with Cloisonné Enamel Decoration and Famille Rose Decoration, The Complete Collection of Treasures from the Palace Museum, vol.39, Hong Kong, 1999 p. 242, no. 214.
These bowls were used in the Palace. The traditional point of view is that the bowls were made, decorated with underglaze blue and the seal mark and then sent from Jingdezhen to the imperial workshops in Beijing to having the enamel decoration added.
This type of bowl was already popular during the Jiaqing period, reaching a peak, both in quality and quantity, during the Daoguang period. Such bowls were still manufactured in the Guangxu era.
During the Daoguang era bowls show very elegant, strongly-coloured incised decoration with feather-like spirals and colored ornamentation of yellow, pale and dark blue, pink and purple, with white reserves. The reserves was decorated with plants of symbolic meanings and animals, or illustrations from the story of the Cowherd and the Weaver Girl.
The 'scraffiato' background pattern on these bowls is in Japan better known as tako karakusa pattern. The "kara" of Karakusa means "China", while "kusa" means "plant", meaning "Chinese plants" in Japanese. This version where new spirals extends from each other is a version called tako karakusa meaning "octopus wines". The pattern seems originally to have reached China via the Silk Route, fused with the Buddhist culture and eventually reached Japan in the ASUKA period (7th Century AD).
The decoration of pine, prunus and bamboo, known as the Three Friends of Winter, or simply The Three Friends, symbolizes the strength, purity and uprightness of the cultivated gentleman, and is a common decoration on porcelain throughout the Ming and Qing dynasties.
Similarly decorated bowls also occurs with its round panels decorated with still-life images of vases, censers and jardinieres. The panels surrounded by a pink scraffiato ground with inset lotus flowers. On these bowl the interior is similarly decorated in underglaze blue, but with four ornate hanging lamps and a stylized central roundel of vases issuing flower sprays, matching the outside panels.