Ink, Chinese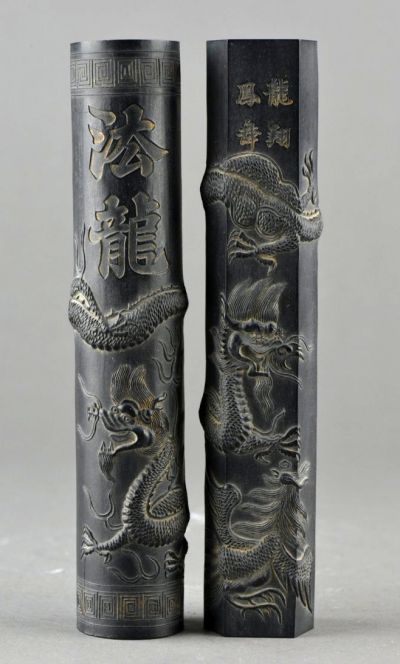 Chinese ink is made of refined soot and when produced, transported and sold, are turned into sticks that can be art products by themselves. Ink sticks are ground with water into a liquid form just before being used for writing or painting with a brush.
Since Chinese character have their origin in pictograms the calligraphy - hand writing - can give an additional and deeper, sometimes very subtle, meaning to the writing.
Ink though universally black can create many shades from light to dark.
Ink will not survive the firing of any ceramics, why it can not be used to decorated ceramics in advance of the firing. To imitated the look of ink a black oxide usually cobalt will be used dry, on top of any glaze, which will produce black strokes.
The different materials used to create the soot will result in a different end result when used. For example, an inkstick made from soot generated from pine wood from the Huangshan area can have a slight bluish cast to it. Some other inks, made from tung oil soot, may have a more glossy finish. The Japanese are particularly fond of an ink that is called (in Chinese) Qing Mo 青墨 which produces a subtle grey-blue shade. There is also a well used ink made from cinnabar which is very heavy (from it lead content) and produces a deep vermillion result.
Proper arrangement of strokes can create the illusion of color, space, things and textures. Pictures painted in ink monochrome are known as Shui Mo (water and ink/ink and wash) and Bai Miao (line sketches). Ultimately, the artist (painter or calligrapher) will select the ink which will produce the effect sought after.