Edward Combes (Coombs, Coombes), China Mender / China Burner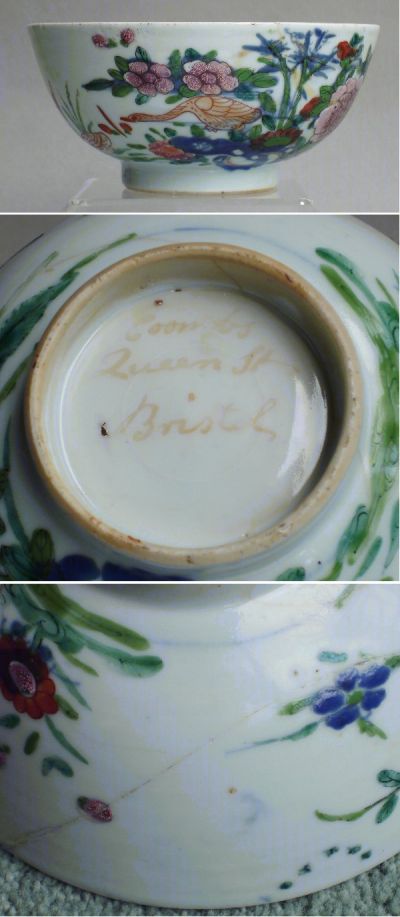 By the late 18th and early 19th centuries repairing porcelain was an important business as shown by the number of extant pieces repairs. Most common are repairs with staples but a more rare type of ceramic repairs also occurs. The method of repairing porcelain and presumable glass was by re-firing with an enamel or a frit that if successful would create a permanent ceramic seal. Some if not all of these repairs was made in Bristol, England.
In Hugh Owen, Two Centuries of Ceramic Art in Bristol, 1873, on page 239, says:
'This plateau (a Bristol porcelain sucrier) has been broken and very skillfully mended, by a method not often practiced now. A frit or glaze fusing at a low, temperature, was employed as cement, and the piece fired in a muffle kiln. An inscription at the back, "Coombes China Mender, Queen Street, Bristol, 1780", is burned in; and this habit of marking his work in enamel color has caused confusion; as Coombes sometimes styled himself as a "China Burner" - thus leading to an idea, that a china manufacturer of that name had worked in Bristol. He lived in Queen Street until 1805'.
Almost half a century later in Old Bristol Potteries, 1920, W J Pountney on pps. 116-117, adds:
'From ... about 1820, or a little later, there were two men, named Coombes and Daniel, who went from one pottery to another firing the kilns for the pottery proprietors. They were styled "china burners," and their process was to ignite the six or eight fires surrounding the kiln, after the doorway had been built up with fire-bricks in fire-clay, and to tend these fires until the maximum heat had been acquired, which was estimated in a bricked-up trial hole which was opened for testing purposes, and bricked up again after the examination.

In the Bristol Museum were two Oriental porcelain plates, and one saucer, until quite recently wrongly described as having been made at Bristol, marked on the back with the names of one or the other of these two men, and their trade and address below the name. Daniel as a rule called himself a "china burner," whereas Coombes generally used the words "china mender." Their process in mending was to dip the fragments of ware into a glaze and stick them together, probably supporting the articles on a mould of clay, so as to keep the edges together. These would be put into the "trial hole" and left to be fired with the rest of the ware. The result would be a good and invisible joint, unless the piece was held between the observer and the light, when a clear joint, like glass, would be apparent, otherwise the article would look as if it had never been broken.'
My view on this is that although some repairs might, at some occasion, have been fired in a full size porcelain kilns observation hole, usual repair work would have been made in a small muffle kiln of their own, that could be fired when needed. Also no signed examples of repaired pieces appear to have any "invisible" repairs. Either different methods were in use or the word invisible meant a different thing in the early 19th century than today.
In the collection of Bristol Museum and Art Gallery there are pieces repaired and marked by Combes (Coombs, Coombes) between 1778-1801. For five years 1785-1790 he styled himself "china burner". A trade he seems to have been performing together with "Daniel" (Pountney, 1920) between 1787-1789.
In 1793 "Edward Coombes, China Mender, Queen Street" appear in Mathews Trade Directories (Bristol Reference Library). By 1820 he is listed by Mathews as a china and glass mender, &c after which the business was taken over by Rebecca Inman, daughter and administratrix to the estate of Edward Coombes, late of Queen Street, deceased, china and glass mender, no 18 Lewins Mead (Felix Farley's Bristol Journal, January 15, 1820).
Further entries in Mathews trade directory for 1826 and later suggests that the China and Glass Mender business was continued by Rebecca Inman (late Combes) until 1839, then by Joseph and Rebecca, and from 1840 Joseph is listed, without Rebecca.