Undercut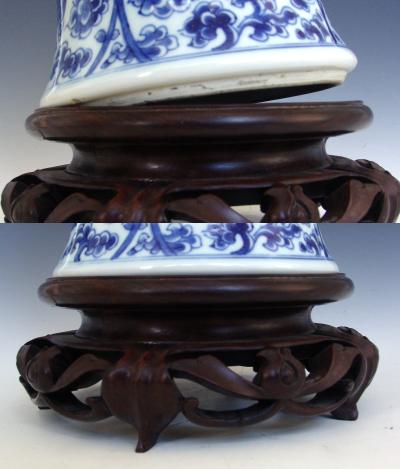 The term "undercut" foot describes a base where the foot rim is cut back from the edge of the base. It originates in the Kangxi period and it was done for the object to fit into a stand without the base rim of the piece disappearing from view into the stand, thereby elevating the piece to appear to sit on top of the stand rather than down into it, to display the full side of the decoration and sometimes the neat edge where the glaze stops short of the base. From a functional point of view this also gave it more stability to stay on the stand.
The stepped (undercut) foot is most commonly seen during the Kangxi period particularly on large jars and vases though it is also occasionally employed on later wares particularly during the Guangxu reign with the Kangxi revival pieces. You find it on most Kangxi baluster, yen yen, and general's jars as these shapes were used for decrative display purposes as well functionally.
Stands were very popular in the 18th C and some were quite intricately carved works of art on their own. Unfortunately it is rare that the stands are still with those pieces today, since they are either lost or broken. One obvious problem also being the wood cracking and shrinking out of shape.
The Chinese made stands for various pieces out of many different materials long before the Kangxi era and continued to do so throughout the dynastic period up to today. One example is the tea cup stands of the Song Dynasty. Ivory, various metals, wood, even lacquer stand were made for display purposes. Stands became extremely popular in the Kangxi period and certain types of vessels' foot rims were constructed to more accommodate the display stand for better presentation.
The illustration shows a Kangxi beaker vase c 1700 with undercut foot rim - stepped foot - and thus fitting neatly into the stand showing only the base and not the foot rim. Photo: Jan-Erik Nilsson 2005. (Text source: Mike Vermeer, 2005)